HIKE IN CONSUMER PRICE INFLATION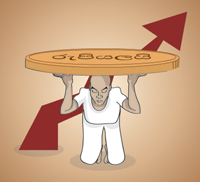 The lingering drought has caused Sri Lanka's consumer price inflation to hit a record high of 6.8 percent in February. Core annual inflation, excluding fresh food, energy, transport, rice and coconuts, rose to 7.1 percent in February, compared with the previous month's seven percent.
Measured by the Colombo Consumers' Price Index (CCPI), inflation largely increased as a result of changes to the base year and market basket, in addition to the drought conditions.
Further worsening the situation, the rupee has fallen over one percent this year, which in turn has resulted in expensive imports.