COVER STORY
SCALING NEW HEIGHTS
Insights from Nepal's first billionaire businessman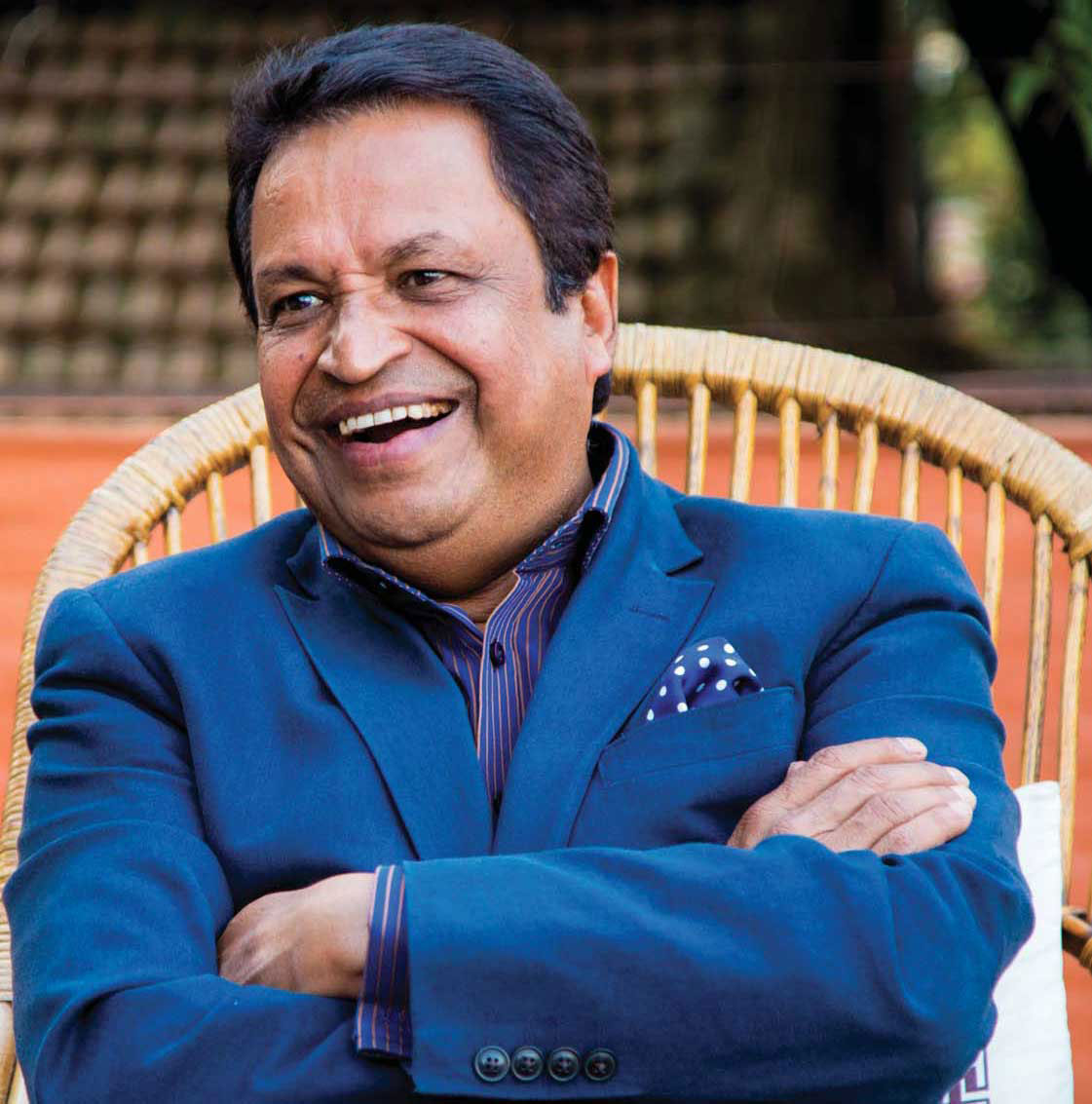 Binod Chaudhary remains optimistic about Sri Lanka's future prospects and underscores the key role of tourism in the macro-economy
Nepalese businessman, industrialist and philanthropist Binod Chaudhary heads a conglomerate that consists of 112 companies. What's more, he holds the honour of being the first Forbes listed Nepali billionaire.
Chaudhary has also been involved in several government and social sectors, having worked as a member of the Constituent Assembly and Parliament of Nepal from April 2008 to May 2012. Meanwhile, his CG Foundation works towards contributing to social welfare, and Chaudhary is cited as a frequent supporter of art, music and literature too.
In this exclusive interview with LMD, Chaudhary offers his take on the progress achieved by Sri Lanka in the postwar era and the nation's development prospects for the future. In addition, he outlines the thinking behind his decision to invest in the local economy with a keen eye on the island's burgeoning leisure sector.
He also delves into the subject of regional cooperation in South Asia, which has faced its fair share of setbacks despite the existence of multilateral agreements but can look to gain from shifting global dynamics.
Binod Chaudhary's professional success has been marked by his close ties with powerful entities, which he discusses openly in this interview while touching on key factors that have enabled him (and his corporate interests) to forge ahead.
"What ultimately prevails is your own way of conducting yourself and the image that you carry forward. Overall, a corporate with a good public image finds it easy to engage and survive even in difficult environments," he tells LMD's Special Correspondent Savithri Rodrigo in this no holds barred interview.
– LMD
---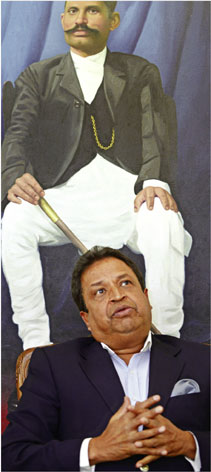 Q: In big picture terms, what is your mantra for success as an investor?
A: You must have a dream that is big enough to not let you sleep again so that you pursue it wholeheartedly. There is nothing called a 'perfect environment.' You have to seek close to perfect solutions in an imperfect environment. That's what makes you different.
Q: What drew your attention to investing in Sri Lanka – and what are the pros and cons of doing so?
A: When I first visited Sri Lanka, it was beset by conflict and disruption with investors and tourists rushing away, and the country in chaos both politically and socially. However, I always believed in the fundamentals of Sri Lanka.
When Lee Kuan Yew once visited Sri Lanka, he is believed to have said: "One day, I want to make Singapore like Sri Lanka." That was the level of opportunity and development he had observed in Sri Lanka. Temporary issues do not change the inherent strength of a country and its people; it's only a question of time.
I always knew the situation would be protracted, and that we would need patience and continuous support for the business over many years until everything normalised. However, I was also very optimistic that the rewards would be big – and that has turned out to be true.
Our investment in Taj Samudra specifically and Sri Lanka in general represents one of the best in our hospitality space anywhere in the world.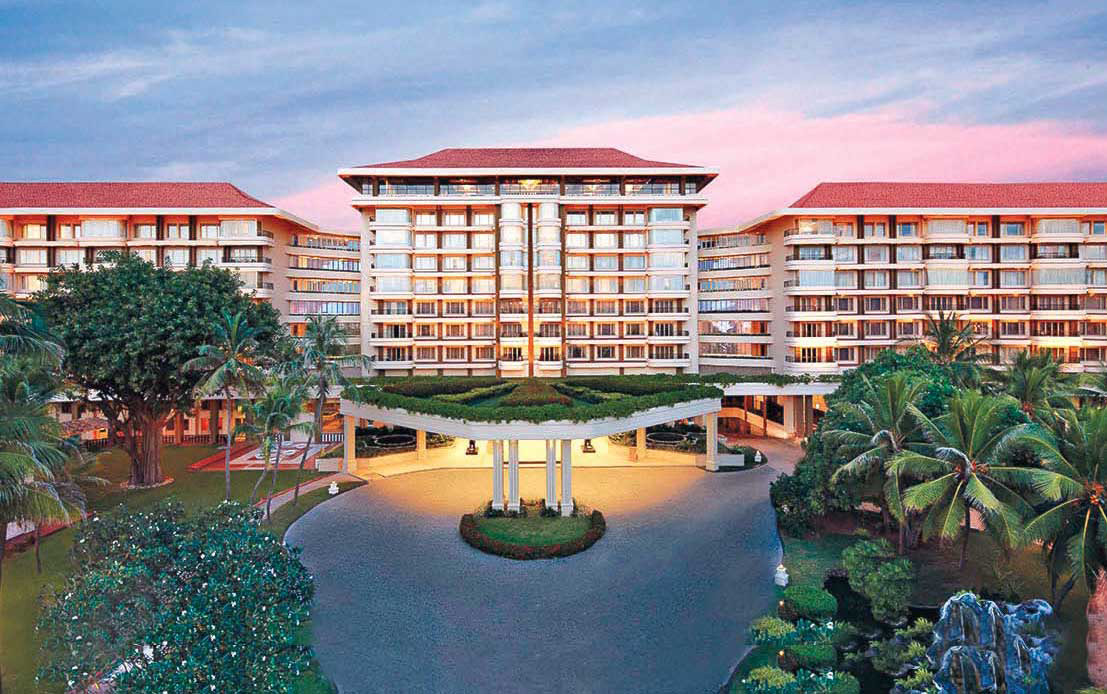 Q: What is your take of the state of the Sri Lankan economy as well as the political situation – and how have these factors impacted the country's image?
A: Worldwide, Sri Lanka is highly rated and respected. Despite political transitions, Sri Lanka has done extremely well in reinventing itself as one of the most progressive tourism destinations.
Progress made in bridging the engagement of China and India for Sri Lanka's benefit is commendable. And for that matter, all smaller South Asian countries should follow this example.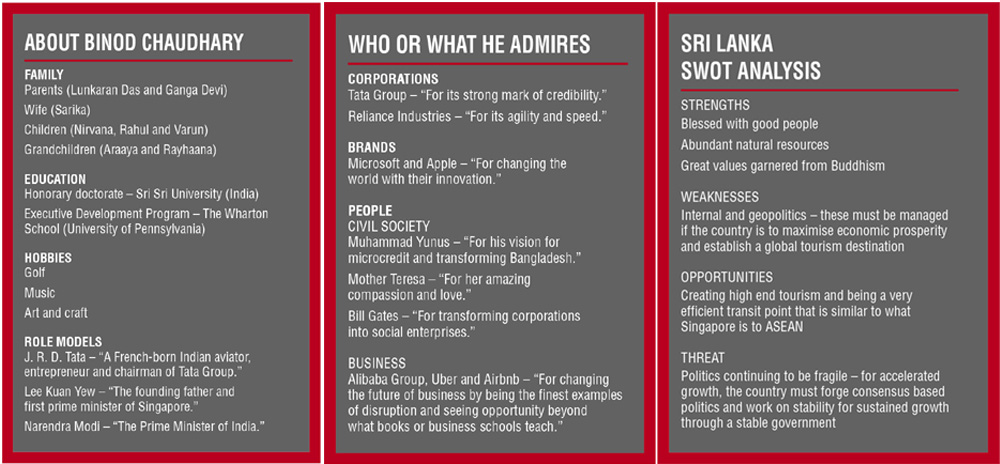 Q: What are your thoughts on the Colombo International Financial City (a.k.a. CIFC or Port City) development and larger Western Region Megapolis?
A: To establish a country as a financial hub is very challenging. The territories that have excelled are Hong Kong and Singapore. Even Bahrain and Dubai are nowhere close to their goals.
The creation of a financial hub calls for long-term political stability, and trust in the continuity of pronounced policies and laws. I am not trying to minimise Sri Lanka's prospects in this context but I do believe it to be a long haul. And given the restrictions of free convertibility in South Asia, questions arise about the targeted market and what competitive edge Sri Lanka will have over established markets such as Singapore.


Q: Could you comment on Sri Lanka's tourism prospects and any stumbling blocks there are – and how they can be overcome?
A: CG Corp Global and its hospitality arm have invested in some of the finest properties in Sri Lanka including Taj Samudra, and Jetwing Vil Uyana and Seashells.
I am confident that given the economic resurgence and growth prospects for Sri Lanka's hotel sector – especially in the northern and eastern parts of the country – there are good prospects. With its pristine and unexplored territories (a result of the civil war), Sri Lanka is now rebuilding its reputation as a global tourist destination, attracting international hospitality brands to its shores.
However, Sri Lanka must work on retaining tourist traffic in Colombo. Appropriate entertainment options must be introduced. Also, it must optimise on some of the high end properties such as Jetwing Vil Uyana and Taj Samudra to develop high-end tourism.
Q: How do you view the human resources and talent available in the island?
A: Sri Lanka is one of the most promising countries in terms of human talent. In fact, I see the Sri Lankan diaspora contributing significantly with professionals possessing vast global experience and exposure returning to the country. This is a trend that will grow and strengthen Sri Lanka's human resource pool.
Q: Would you describe yourself as a 'hands-on businessman'?
There is no set rule for the conduct of a businessman in the South Asian environment. There are situations where one has to be hands-on if they demand it to address a problem that others have not been able to rectify. Or it may be sufficient to play the role of a strategist and leader.
In my case, I believe in controlling what needs to be controlled and delegating what needs to be delegated – and then building a system to monitor what needs to be monitored. Through this process, I identify gaps and step in where required.
Q: How do you view poverty in the present day? And how does philanthropy tie in with this?
A: Poverty is a vicious circle. Lack of quality education results in families being unable to maximise their earnings, which in turn leads to social issues. Therefore, it is the country's responsibility to ensure good quality education, health and employment to all. This is where the leadership of South Asia needs to be more creative and committed.
Philanthropy does not address poverty sustainably. Today's philanthropy must revolve around building entrepreneurship, and creating job opportunities and activities that are socially acceptable and are yet sustainable.
Q: In your autobiography, which has been updated for an English translation, you state that "in Nepal, you do not need great ideas to become a great person. All you need to do is to hobnob with the right people." And you go on to explain a number of events and actions on your part that suggest that 'playing by the rules' so to speak would not have got you this far. Could you elaborate on this?
A: It is not only in Nepal but in many cases, this is true everywhere in the world as I've come to know firsthand from several successful businesspeople or professionals including many Forbes billionaires that I've met and read about.
It is not only businesspeople and billionaires but also politicians and successful professionals who agree that one of the most common reasons for great success is 'to be in the right place with the right person at the right time.'
This does not happen by coincidence. You've got to read the overall ecosystem and cultivate relationships. In changing dynamics be they political or geopolitical in terms of governance, or other forms of enabling circumstances, unless you're able to grapple with the situation intuitively and act faster than others, you may be left behind.
So it's not about changing loyalties but about pure manoeuvring to protect and carry forward your dreams and goals.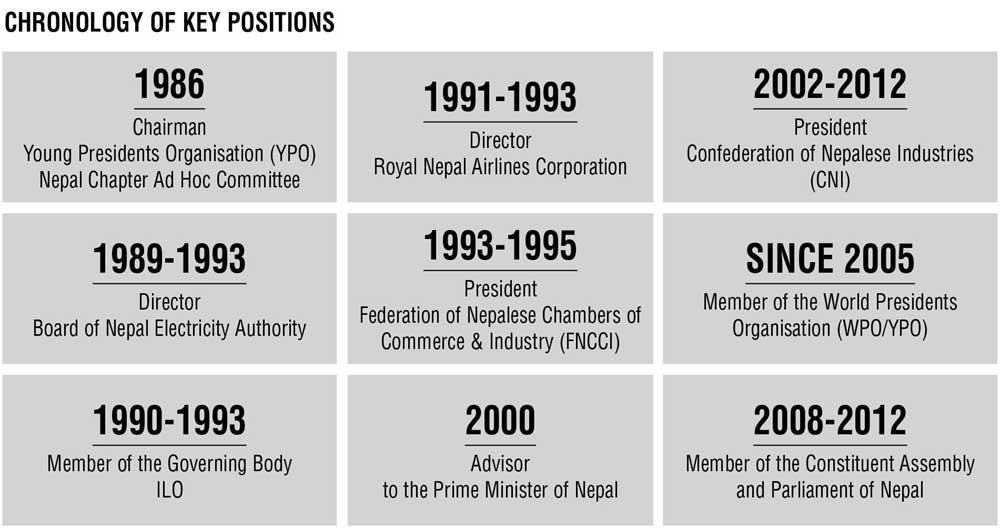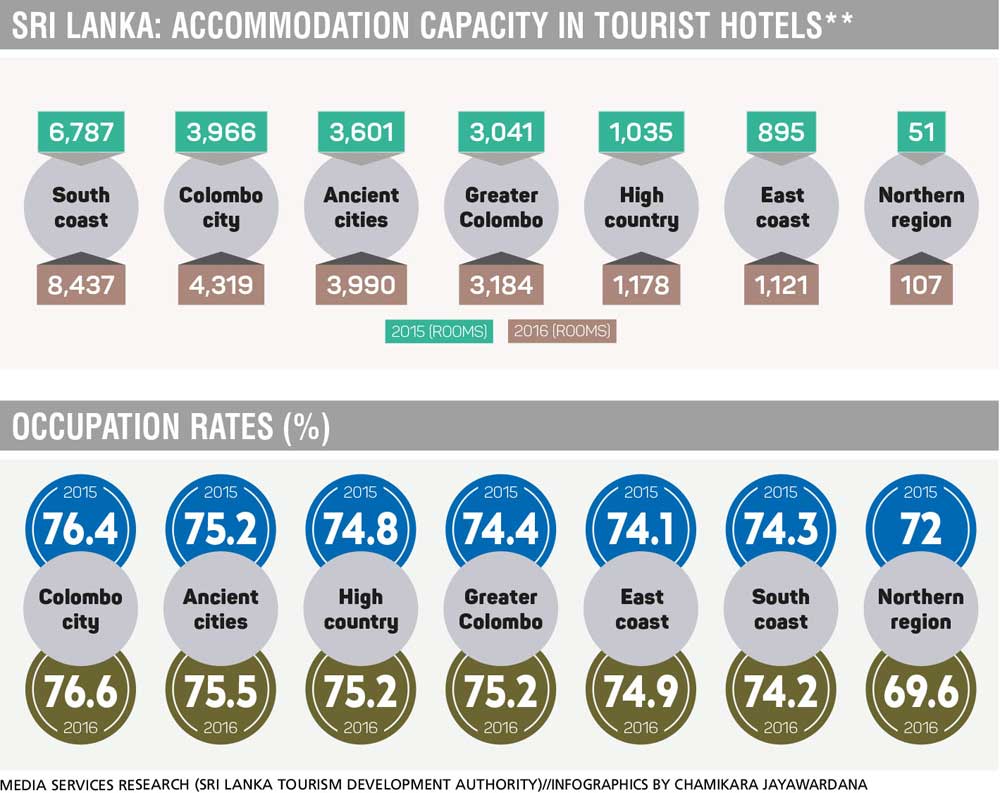 Q: So where does this leave proponents of good governance? And does this mean that success in this part of the world cannot be achieved by playing with a straight bat?
A: You have to read this in context. I am referring to an environment where in 26 years, governments changed 25 times – and with the change of each government, the whole bureaucracy changed, ranging from the monarchy to the Maoist led government, which came to power after a decade of armed insurgency.
So every new change poses new sets of opportunities and challenges, and you have to prepare yourself to deal with the situation – this may not be as straightforward as everyone desires. But that doesn't mean everything is wrong and everybody is bad. You can still find a lot of good, honest and sincere people in each of these changing situations.
What ultimately prevails is your own way of conducting yourself and the image that you carry forward. Overall, a corporate with a good public image finds it easy to engage and survive even in difficult environments.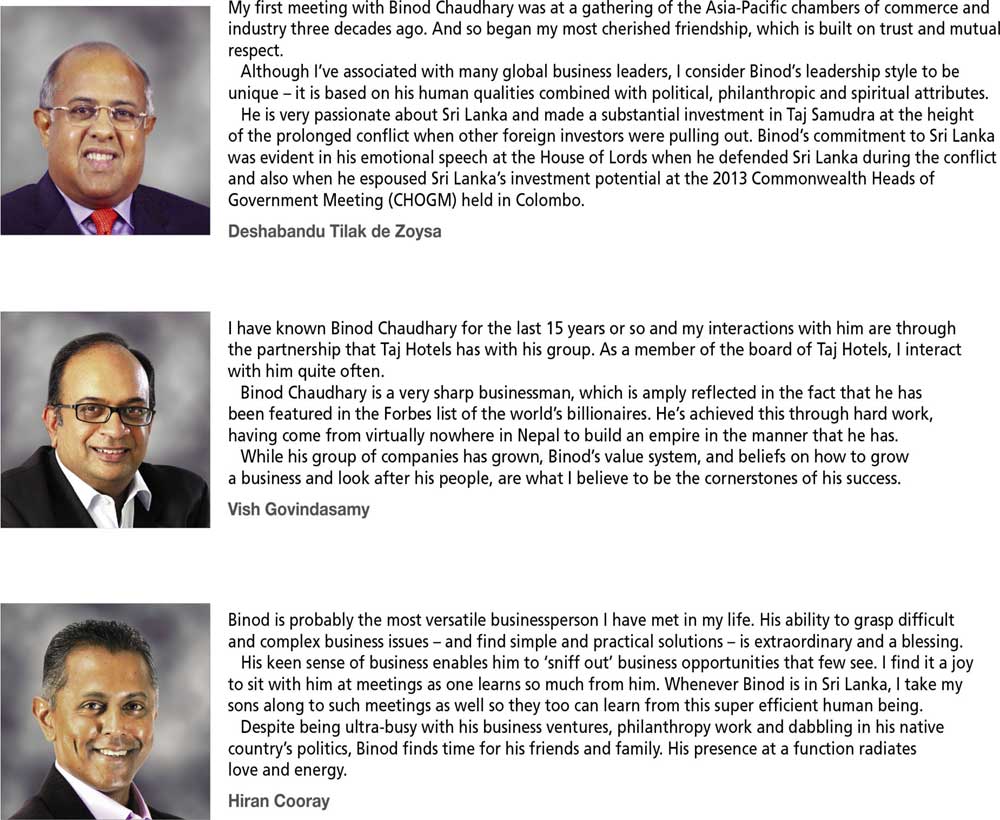 Q: What is your take of Generation Y (the so-called 'disruptors') and how should businesses manage the generation gap?
A: The Generation Y paradigm has evolved. This is the era of technical advancement with young people and startups becoming globally successful.
Trendy YouTubers are compelling traditional TV to rethink its survival, teenage Instagram stars are becoming case studies for marketing gurus and online media is forcing the shutdown of newspapers. There's Uber, Airbnb and Alibaba Group, which have disrupted the way business is conducted.
To manage this environment, businesses must rely on modern technology and internet based tools. Secondly, businesses should connect people who need a product with people who have the product and are willing to sell. Thirdly, businesses should prioritise consumer convenience while innovative ideas and a strong will for execution are imperatives.
Q: And finally, how do you envision the future of South Asia as well as SAARC?
A: I've always felt that SAARC is 'too little, too late.' While SAARC has been able to create a good environment for engagement between people across many fields, economic integration is lacking. The bilateral arrangements with India and many other multilateral trading blocs have lost the SAARC vision. And the integral structure itself is faulty as Pakistan and India are rivals.
I do not see SAARC emerging as a viable economic bloc anymore. But I perceive a greater opportunity for SAARC and ASEAN to work together on a larger platform. The Kunming Initiative is one such example.
– Interviewed by Savithri Rodrigo