YOUTH FORUM
Compiled by Savithri Rodrigo
SAYING 'NO' TO EXTREMISM
Shahini Liyanagama says that extremism in any form shouldn't be tolerated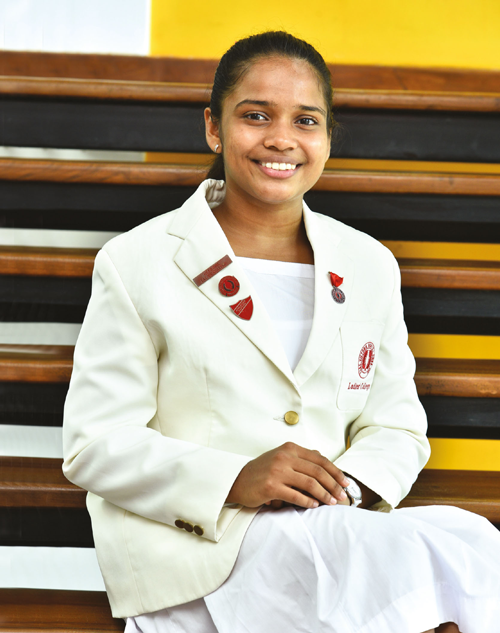 Q: What challenges are faced by Sri Lanka today?
A: Political instability is a major challenge, which leads to economic instability and a higher cost of living. A majority of families are in the middle income category and they constantly struggle to maintain their quality of life – they're hampered by low incomes and high expenditure, and divisions in society, leading to the challenges of racial and religious conflicts.
Extremism in any form should not be tolerated as speculation and misinformation can transform even a simple incident into a raging controversy. Sri Lanka faces the challenge of seeking a clear vision to stabilise our country and its people.
Q: How can Sri Lanka retain the talent that it has?
A: Sri Lanka provides free education to every child but the value of this benefit must be optimised with the introduction of a wider selection of subjects, further upgrading the curriculum, and matching career opportunities with study courses at state universities and national development policies. This also necessitates improving university capacity to curtail the brain drain.
Recognition must be given to young graduates, thereby creating relevant career opportunities to ensure financial stability, high living standards and job satisfaction. This would help retain young talent.
Q: Does Sri Lanka have young leaders to take the country forward – and what traits should they possess?
A: Yes, we do. They should have confidence, and be intelligent thinkers and team players who respect everyone's opinion.
They should be open-minded, and work towards a common goal that benefits the majority. Most importantly, leaders should consider themselves to be members of the general public without being driven by power, pomp and pageantry.

Q: Do you believe that the nation will be truly united one day?
A: Yes. I say this with confidence because I have faith in humanity. By understanding that all individuals fall under the common category of 'human' regardless of one's race, caste or religion, we can overcome the divisions that have arisen in our multiracial society.
Overcoming inferiority complexes between ethnicities, respecting and accepting each other's existence, having trust and understanding regardless of another's culture or religion, analysing situations with an open mind, not getting carried away by political influences and most importantly, viewing one another as 'Sri Lankan' will lead to a united Sri Lanka.
Q: Where do you see yourself in 10 years?
A: I hope to complete a medical degree at a state university and become a medical practitioner in order to serve my country to my fullest capacity. Simultaneously, I hope to complete my postgraduate studies and contribute to disseminating knowledge as a university academic.
Q: How do you view gender equality and environmental degradation?
A: The purpose of gender equality is to provide equal opportunities and access to resources for both genders. But unfortunately, it has transformed into intense competition between the genders. Therefore, we have lost sight of the uniqueness of each gender's capacity and what complements one another's existence to suit the balance of nature.
Vast development during the past century has largely impacted the environment, directly causing a loss of natural resources, deteriorating ecosystems and the extinction of species. At present, there's no true development; but it's never too late to save the environment from further damage.
Q: How do you view the growing importance of social media?
A: It's an absolute necessity. Building and improving interpersonal relationships, providing easy access to information and creating business opportunities are a few of its advantages.
However, the so-called 'growing importance' of social media detracts from its benefits. Addiction, isolation from human interaction that creates voids in family units and the spread of falsehoods are a handful of the negative impacts that arise due to the abuse of social media.
Q: And what are your expectations of the world and its people?
A: Corruption, violence and injustice dominate this world. My expectations are for a world governed by justice and peace, for us to function optimally and successfully. Declaration of war should not be the answer to every problem.
All forms of abuse, drugs and discrimination have to be eschewed, and people should be more caring of the environment. People's judgement and opinions should not be politically driven. If patience and mutual respect are instilled in people, we can achieve this vision.