SAMPATH BANK
Senior Citizens are eligible for Rs. 200 million in medical benefits with Sampath Sanhinda Saver accounts
Colombo, September XX, 2022: Keeping its promise to protect the nation's senior citizens, Sampath Bank recently pledged a record Rs. 200 million in medical benefits to Sampath Sanhinda Saver accountholders. This is the highest ever total the bank has committed to safeguarding the future of seniors since the inception of the program in 2009.
At a time when Sri Lanka finds itself dealing with alarming circumstances–spiraling inflation, political unrest, a fuel crisis, a sharp economic downturn, and scarcities of pharmaceuticals and other essential items–the help with medical expenses that this plan provides is a reassuring financial cushion for anxious seniors looking for ways to ride out the turbulent storm that has darkened the prospects of what should have been their untroubled golden years. It reflects the Bank's uncompromising commitment to stand by its customers while helping the country and the business community get back on their feet.
Sampath Bank provides these benefits based on the annual average balance that each individual Sampath Sanhida Saver maintained in his or her account between July 1, 2021 and June 30, 2022. The resulting sum of money will be credited to all the accountholder's Sanhida Medical Benefit Cards, and can be used to make payments at selected hospitals, labs and pharmacies.
These partner organizations include the Asiri Group of Hospitals, CDEM Hospital, Derana Medical Laboratory, Hemas Hospitals, Lanka Hospitals, Medihelp Hospitals, Nawaloka Hospitals, Nawinna Medicare Hospitals, Northern Central Hospitals, Pannipitiya Private Hospital, Sethma Hospital, Sethma Pharmacy, Kings Hospitals, Melsta Labs, Melsta Pharmacy, Singhe Hospitals, Southern Lanka Hospitals, Winsetha Hospital, and select Rajya Osusala (State Pharmaceuticals Corporation) and Vision Care outlets.
Sampath Sanhida Saver accountholders can check the available balance in their medical benefit card by making a missed call to 01112303080, by dropping in at the nearest Sampath Bank branch, or by contacting the Bank's customer care center at 0112303050.
"North, South, East or West, one thing all Sri Lankans share in common regardless of race or religion, is concern for the wellbeing of our elderly people," said Tharaka Ranwala, Senior Deputy General Manager – Digitalization, Deposit Mobilization and Marketing, Sampath Bank PLC. "It's a deeply ingrained part of our national culture. As an institution that prides itself on being closely attuned to the heartbeat of Sri Lanka, Sampath Bank is imbued with those same values. Raising the ceiling of the Sampath Sanhida Saver medical benefits package to Rs. 200 million will help thousands of our senior citizen account holders to afford the expenses that accompany the infirmities of advancing years."
Discussing the unique senior-friendly advantages this account provides, Amila Thewarapperuma, Chief Manager – Deposit Mobilization/Head of Sales, Sampath Bank PLC, said, "Sampath Sanhinda Saver account offer seniors bigger returns on their savings, plus many other benefits to ease the cost of their healthcare requirements. Sampath Sanhinda Saver accounts pay a higher interest rate, and the Bank credits the interest dues twice a month, so it adds up. It's part of our mission to deliver greater value to all Sri Lankans through innovative savings programs, and this is a textbook example of a hugely beneficial financial plan that anticipates and caters to the needs of a very specific demographic."
Despite the contemporary obstacles faced by the banking sector in Sri Lanka, Sampath Bank has successfully maintained all its capital ratios well above regulatory requirements throughout Q1 2022. All the while, Sampath Bank has implemented all government-led moratorium schemes for eligible customer segments affected by the pandemic. The Bank's digitalization strategy has also continued to prove its worth during these trying times by securing a more accessible and safer banking experience for customers.
Sampath Bank is a 100% local bank that has deeply rooted itself in the lives of the people of Sri Lanka. Established in 1987, the bank has become a state-of-the-art financial institution that continues to be a market leader today thanks to its constant innovation and customer focused approach to business. It has introduced many firsts to the Sri Lankan banking sector including introducing ATMs to Sri Lanka, extended banking hours, slip-less banking and adaptation of block-chain technology to name a few. As part of its visionary 2022 approach, the bank is steadily transforming itself into a 'tech company engaged in banking,' from the traditional approach of a bank adopting technology.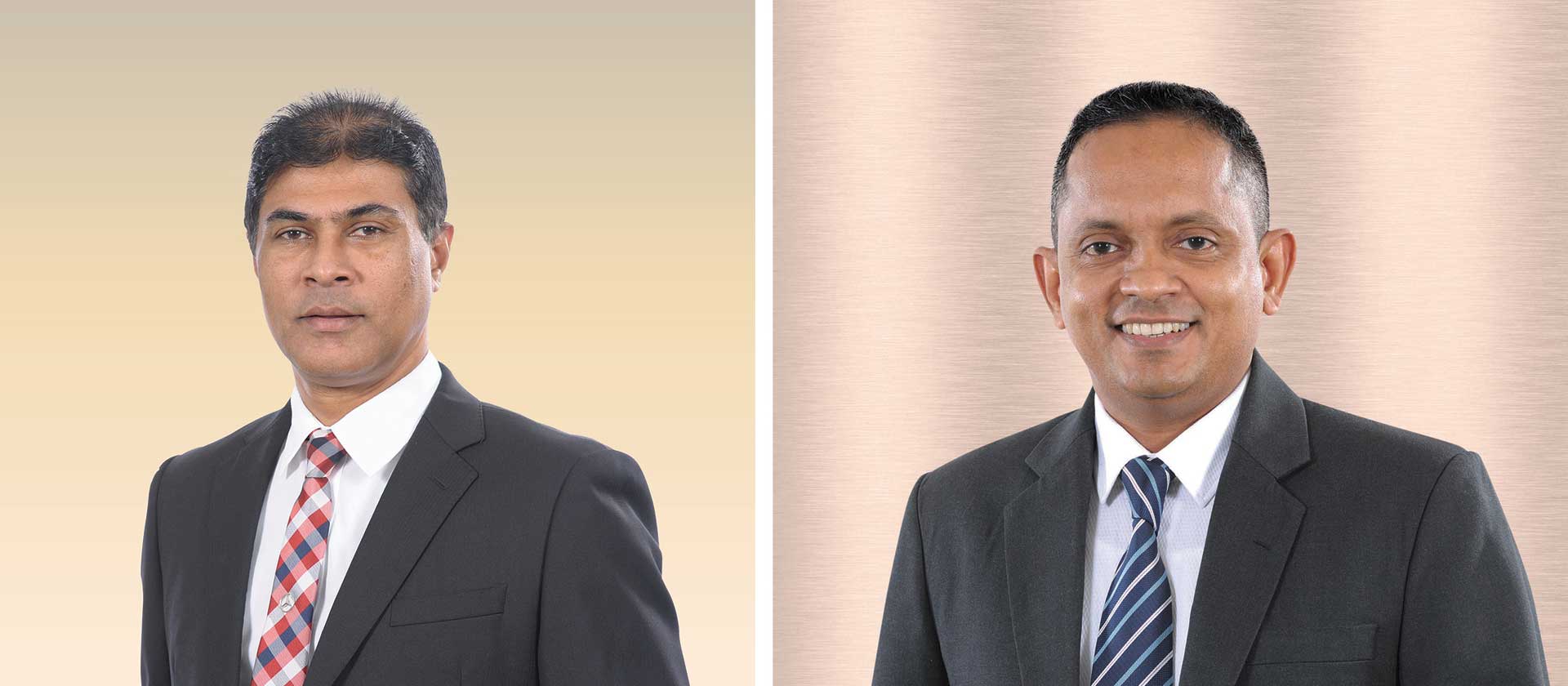 Tharaka Ranwala, Senior Deputy General Manager – Digitalization, Deposit Mobilization and Marketing, Sampath Bank PLC and Amila Thewarapperuma, Chief Manager – Deposit Mobilization/Head of Sales, Sampath Bank PLC