SAITM GIVEN THE GO-AHEAD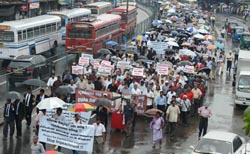 The Appeal Court last week ruled that medical graduates of the South Asian Institute of Technology and Medicine (SAITM) could provisionally register under the Sri Lanka Medical Council (SLMC) as medical practitioners. An MBBS degree holder of SAITM had filed the court case on the grounds that her rights had been infringed by SLMC's refusal to register her as a provisional medical practitioner.
Meanwhile, the judgment caused an uproar among and protests by the Inter University Students' Federation and the Government Medical Officers' Association (GMOA), who oppose any sort of recognition being given to the private medical college.
The GMOA has further threatened the government that it would organise an islandwide strike should the judgement not be reversed within a week.