COUNSELLING FOR SCHOOLCHILDREN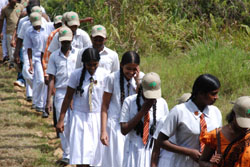 The Ministry of Education has decided to recruit qualified and experienced teachers as counsellors to deal with the rising number of schoolchildren who suffer from depression and related issues.
Possessing professional experience in counselling and psychological guidance, these counsellors will be appointed to 3,768 schools countrywide, while 2,753 graduates are expected to be recruited shortly to fill the gaps.
A lack of time among parents and teachers to look into the grievances of students has been noted as one of the main reasons why students suffer from pressure and stress.