RESTAURANT SECTOR
Compiled by Yamini Sequeira
COVID: THE SILVER LINING
Dilupa Pathirana spots an opportunity for brand building during the crisis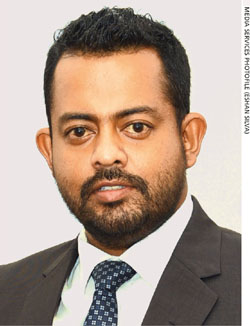 Q: How has cafe culture grown in Colombo?
A: Cafe culture is a firm fixture in urban life globally; it provides new social spaces for a diverse range of individuals.
The growth of cafe culture here in Sri Lanka since the late 2000s is linked to major sociocultural and technological changes, as well as the lifestyle evolution of urban Sri Lanka – especially in Colombo – which has been a fillip to the coffee cafe culture.
In the heart of Colombo today, there are more than 50 cafes within a radius of approximately five kilometres. Cafes and restaurants have become an integral part of the urban renewal, and transformation of Colombo and its suburbs.
Q: And what are the lifestyle trends contributing to this phenomenon?
A: The growing coffee culture among young people is prompted by increasing urbanisation, rising disposable incomes, evolving eating and drinking preferences, and new work patterns of businesspeople.
Therefore, many Colombo cafes are brand building to stay ahead of the race, using social media efficiently and creatively to reach consumers, and engage with the right kind of consumer profiles.
The other noteworthy trend is investment in technology and automation to leverage on the features of advanced cafe POS systems – i.e. to better manage workflows, reduce costs, schedule shifts, enhance customer loyalty and most importantly, offer convenience to consumers.
Q: In your assessment, how has the coronavirus pandemic impacted the restaurant and cafe sector?
A: The impact of COVID-19 has quite literally altered global business as we know it. Practically no one has been left unaffected by the pandemic.
Of course, the cafe sector is no exception – in fact, it is one of the worst hit by COVID-19. Lockdowns, quarantine curfews, business pauses and closures, physical distancing, and changes in how we pay for goods and services are a few changes that have had dramatic repercussions for cafes and restaurants.
What's more, the fact that these businesses typically lack cash flow and capital has made matters worse.
Q: When do you foresee a reversal of fortunes?
A: There is a growing realisation that while lockdowns are lifted, several restrictions will continue to be in place and consumer behaviour would be very different for some time.
Foremost among these challenges is the need for physical distancing. We remain unsure about returning to previous levels of revenue with such restrictions in place.
According to the health guidelines, cafes are only permitted to operate at 50 percent capacity at the time of this interview, which in itself offers no hope for profit as overheads such as rent, salaries and energy consumption are fixed.
Until such time a vaccine is widely available, tourism and trade improve, and there's an increase in disposable incomes, we will have to operate in the 'new normal.'
Q: How does a slowdown in the economy impact your business?
A: The impact is enormous and long-lasting too as cafes are inbuilt with heavy overhead structures, need to be situated in prime locations with higher rents, hire refined staff and have to upkeep all these aspects.
In Sri Lanka, we were merely recovering from the Easter Sunday attacks, which affected tourism and hospitality. I believe that the government needs to pay special attention to provide financial support to bail out cafes and restaurants that are struggling to survive.
Q: Do you believe that home delivery is changing the nature of the dining out culture?
A: It has already changed the dining out culture in Colombo! There are many reasons for consumers to opt for home delivery with convenience being the foremost among them.
I must commend the substantial investments made in setting up sophisticated and customer friendly applications brought forward by major players that have generated trust in online ordering. This necessitated hard work to ensure operational efficiencies and rider management, which has made the difference.
Moreover, the home delivery trend has also given rise to greater use of smartphones and I believe that affordable internet facilities will fuel this trend further. What we need to closely monitor here is the changing patterns of consumer behaviour.
While home deliveries work well for regular cafes and restaurants, premium establishments that offer proper dining out services will struggle as they're unable to deliver an 'experience' through online delivery.
Q: What should be the top priority for cafe owners presently, in your view?
A: I believe that going forward, companies and their leaders will be judged by how they handled (or didn't handle) the COVID-19 pandemic.
The silver lining throughout this pandemic is the opportunity to enhance brands. Is your brand about comfort and safety? Or is it about taking care of people and nurturing them? Demonstrating your business' core values to staff, vendors and customers today will pay dividends in the future.
At the end of the day, customers and other stakeholders would probably forget what your brand did and said at this time; but they will not forget how your brand made them feel during these difficult times.
The interviewee is the General Manager of Barista Coffee Lanka