FOOD SECURITY
HIGH RISK PROTECTIONISM
Janaka Perera addresses Sri Lanka's self-sufficiency in the wake of COVID-19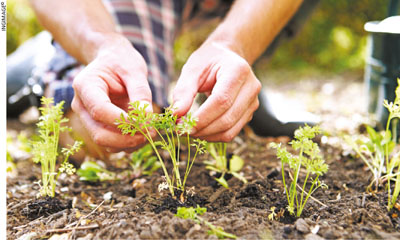 The disruption of global food supply chains due to COVID-19 has raised concerns about how the country's food security would be affected. In addition to existing natural calamities, the pandemic has disproportionately impacted the lives of the poor in Sri Lanka.
Obviously, we cannot return to ancient times in the precolonial era when this country was self-sufficient not only in terms of food but also almost all other essential consumer items. It was a different world then…
Since gaining independence, the question was whether any government had a long-term plan for self-sufficiency besides ad hoc solutions compared to many other nations. We remain a 'developing' nation after seven decades of 'independence' as a result of a lack of a coherent national policy on the approach to self-sufficiency in the context of the global economic environment that emerged after 1945.
The government indefinitely extending import controls since May recalls the Sri Lanka Freedom Party (SLFP) led United Front government's socialist policies between 1970 and 1977.
Among its foremost mistakes was import restrictions that affected essential items such as medicines and infant milk foods not produced in this country. People had to wait in long queues to buy scarce items, thereby wasting valuable man hours.
A closed economy does not guarantee all citizens economic and physical access to nutritious food, nor does it assure a resilient domestic supply chain.
The abrupt curfew imposed last year following the first wave of the pandemic exposed our failure in building a resilient domestic food system. The most unfortunate outcome was three people losing their lives in a stampede among a hungry crowd trying to get their hands on cash donations during Eid celebrations.
Isolating Sri Lanka from the interconnected global supply chain will only heighten food insecurity. An example was the skyrocketing price of turmeric when the government banned its import along with nonessential goods.
The FAO stresses that the crisis we are facing is a global problem – one which requires a global response. Singapore's (which exports over 90% of its consumption needs) success in this area is attributed to its continued commitment to staying connected to global food supply chains while strengthening local production.
Import diversification is effective even in ordinary situations as one exporting country's harvest losses will not threaten the availability or supply of that particular product for the importing nation.
If we focus on a related issue, although Sri Lanka is supposedly an agricultural country, no lasting steps were taken to improve the lot of the farmer over the past seven decades. More often than not, farmers have been in debt.
Even with rich harvests, neither farmers nor consumers reap the benefits. It is always the middleman who derives the largest profit. Consequently, farmers seldom gain reasonable prices for their products.
It is no secret that a rice mafia is dominating the market. This system must be ended once and for all especially in the light of the current crisis. The first step is to pave the way for farmers (both paddy cultivators and others) to market their products directly and turn them into entrepreneurs eventually. This is a feature in all advanced nations.
Protectionist policies that aim to protect domestic producers and boost production have had the opposite effect.
Small scale producers of ulundu have opted to end or reduce production resulting in fewer sales. Moreover, the ban also affected the production of kurakkan flour – a fibre rich alternative to wheat flour, which is widely consumed by diabetics – with producers resorting to ceasing or curtailing production.
Import restrictions have severely affected manufacturers relying on ulundu as a raw material for products such as papadam, flour, thosai, vadai and dhal. Given the lack of raw materials, a local manufacturer revealed that it had to reduce production by a staggering 90 percent last year.
These restrictions have adversely affected Sri Lanka's already fragile export sector as well since manufacturers have failed to meet the demand of international markets for products such as thosai mix.
For instance, the aforementioned manufacturer exports about 15 percent of its thosai mix to markets in Europe, North America, Asia and Australia.
According to Sathya Karunarathne – Research Executive (Policy) at Advocata Institute – the way forward to ensuring the island's food security is to improve internal inefficiencies while recognising the importance of remaining connected to global food supply chains, and multiplying our food and raw material import sources.
All programmes geared for self-sufficiency should aim to learn the lesson COVID-19 has taught the world – that we must reduce our preoccupation with consumerism as a way of life that threatens the natural environment in the long term.