RED BULL
Red Bull Campus Cricket National Finals 2019 comes to an exciting end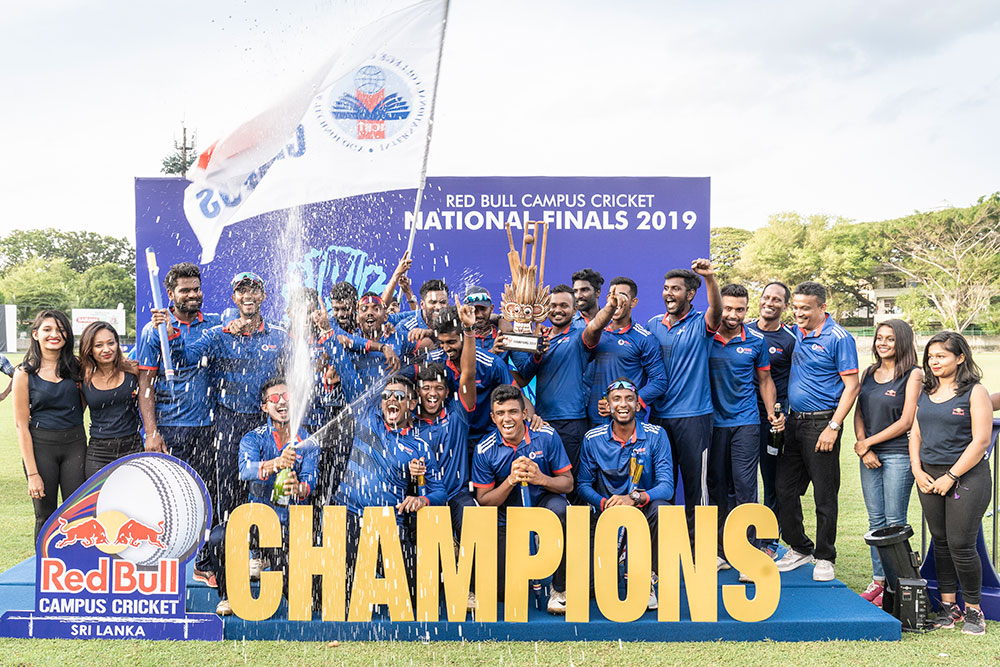 The highly awaited National Finals of Red Bull Campus Cricket (RBCC) 2019 kicked off on the 21st of July, amidst an atmosphere of excitement. Culminating in a week of fierce competition, sportsmanship, and an incredible display of skill, the finals were held on the 28th of July. ICBT emerged champions once again for the third time in the national leg of the tournament after a hard-fought battle at the finals.
Red Bull launched RBCC with the aim of bridging the gap that exists for players between school and club teams, thereby providing a platform for young and passionate players to showcase their talents. RBCC has now transformed into a scouting ground for such players to be recognized, possibly paving the way to kick start a national career. As such, the talent witnessed this year has proven to be no exception.
The Man of the Series was awarded to young Nuwanidu Fernando of Australian College of Business and Technology (ACBT), who scored a whopping total of 358 runs across three matches. Malindu Maduranga and Sangeeth Cooray of SAEGIS Campus both excelled with their batting as well, scoring 300 and 185 runs across three matches respectively. Cooray further bagged the title of Best All-Rounder, having taken 4 wickets across the tournament. Meanwhile, Avindu Theekshana and Chandula Weeraratne of SAEGIS Campus both took 7 wickets each throughout, the highest number this year's tournament has seen, including a hat trick. In an exciting twist, SAEGIS Campus successfully set a new RBCC National Finals record by becoming the first team to pass 300 runs in two successive games.
Played at the Colombo Colts Cricket Club Grounds and BRC Grounds, the eighth edition of RBCC National Finals consisted of 26 teams across Sri Lanka battling it out to represent Sri Lanka at the world finals later in Dubai. Spectators at the highly anticipated tournament matches were able to witness firsthand the signature sportsmanship and camaraderie that RBCC is known for. From hosting the RBCC World Finals for three consecutive years to winning trophies and providing the world with incredible talent, Sri Lanka has consistently been in the spotlight at RBCC throughout the years.
Following the exciting finals, team ICBT is now preparing to represent Sri Lanka on the international platform at the RBCC World Finals 2019. Giving wings to cricketing talent all over the island, Red Bull Campus Cricket Now moves to Dubai for the world finals. Will ICBT clinch the world finals trophy? Will they continue the winning spell for Sri Lanka as set out by BMS in 2018? More to follow from Dubai…..