RED BULL
Red Bull Tuk It 2020: The Ultimate Tuk Tuk Challenge in Sri Lanka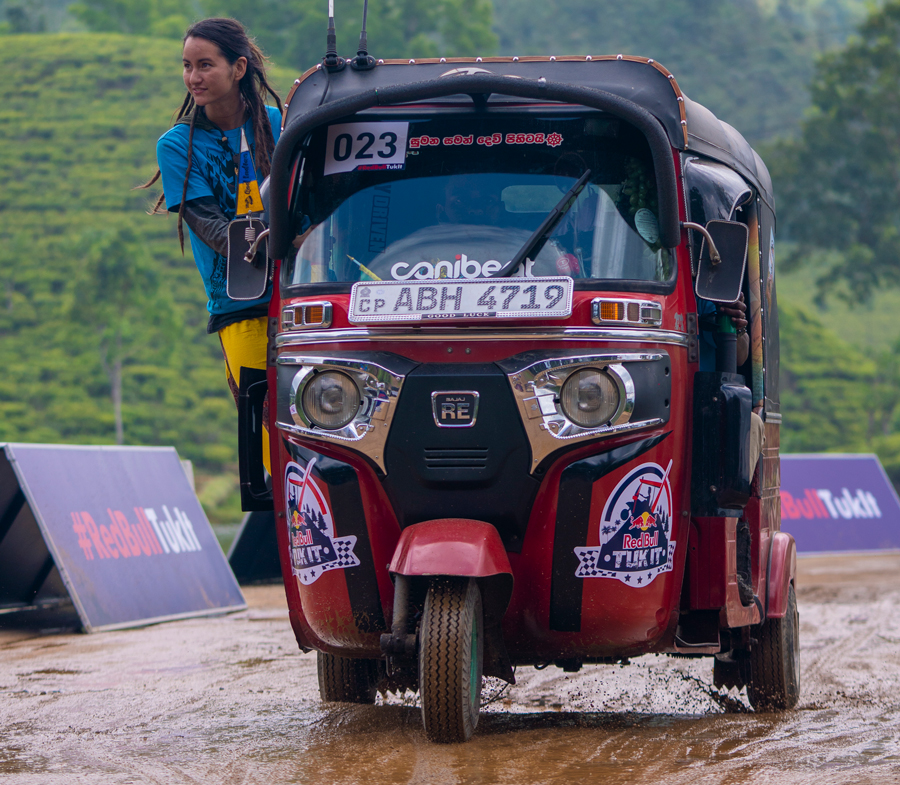 This year, Red Bull Tuk It 2020 returned for the fourth time in Sri Lanka, inviting sports enthusiasts to take on the roughest terrains of Sri Lanka. Held on the 22nd and 23rd of February, the event was a challenge designed to test the body and mind of participants who embarked upon a grueling trip through bustling city streets and challenging off-road terrains.
Passionate participants made their way through Sri Lanka's most scenic and testing routes competing for the ultimate trophy. This year, the event saw the registration of 228 teams, each consisting of three participants each. 72 teams completed the final stage. The event consisted of four stages, each of which encompassed a variety of tough terrain, challenges, and tasks unique to the local area.
Participants completed the first three stages on day one, traveling from Kaluaggala to Dundin Estate and Vee Oya. The final stage of the competition took place at Galaha, and the legendary journey came to an end in Dambulla. Two coveted prizes were up for grabs. The overall winner of the competition this year was Team 93-4, with Team 93-1 and Team Mulleriyawa Kings One emerging as 1st runner up and 2nd runner up respectively. The winner of the most creative tuk tuk was Team Lion. This year, milestones were celebrated in the form of Special Awards, where Team Fire was awarded for Best Timing at Galaha Quarry SS course, Team Jenny made history as the first women's team to compete, and Team One Beat was recognized as the first international team to compete.
For more than 31 years, Red Bull has been giving wings across the world, a global giant that is now active in 177 countries. Red Bull believes that sports and athletes are a true example of high performance, giving wings to those who attempt to achieve the extraordinary.  Red Bull and sports go hand in hand, with events that are legendary and highly anticipated every year.
With a brand as creative as Red Bull, it comes as no surprise that Red Bull events in Sri Lanka are some of the most uniquely crafted and highly anticipated events. Red Bull Tuk It is perhaps the most creative of the lot, an event which embraces the iconic nature of the Sri Lankan tuk tuk and challenges participants with creativity, skill, and teamwork, delivering the right amount of thrill-seeking to the adrenaline junkies out there.
The iconic Sri Lankan tuk tuk is now an integral part of the country's tourism and identity. Although driving a tuk tuk is one of the highest employment generators in the country today, it comes with its own unique challenges, both technical and through societal stereotypes. Through this event, Red Bull is challenging stereotypes, giving local participants a cherished moment of heroism, making heroes out of everyday people.
Indeed, Red Bull Tuk It has certainly made a splash in Sri Lanka over the years. This year, Red Bull Tuk It has once more achieved one of their main goals, and sparked excitement amongst people all over the country, along with sparking a newfound appreciation for some of Sri Lanka's most beautiful terrains.
Red Bull Tuk It 2020 was a fun-filled and action-packed event. From the adrenaline-seekers to the creative decorators, Red Bull Tuk It 2020 brought together hordes of spectators and competitors from around the country for a unique competition and celebration of sports.