RECEIPT OF LARGEST INVESTMENT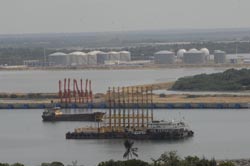 Sri Lanka recently received its single highest tranche of foreign direct investment (FDI) to date with the release of US$ 584 million by China Merchants Port Holdings (CMPort) for the Hambantota Port.
This marks the third tranche received from CMPort for a total of 976 million dollars. Under the terms of a concession agreement between the Sri Lanka Ports Authority (SLPA) and the government, as well as CMPort, the management, operation and development of the Hambantota Port will continue under a public-private partnership model. To this end, CMPort agreed to deposit 146 million dollars for port and marine related activities.
Chairman of SLPA Dr. Parakrama Dissanayake also stated that CMPort's investment could be described as "a credible vote of confidence in its potential as well as in the economy of Sri Lanka."