REAL ESTATE SECTOR
VERTICAL LIVING
BUOYANT HOUSING DEMAND
Nalin Herath is bullish about the outlook for the real estate sector this year
Compiled by Yamini Sequeira
In the past, there was a tendency for people to avoid moving to locations in Greater Colombo due to the lack of infrastructure, traffic snarls and long commutes. In recent years however, the development and improvement of infrastructure and highways has enhanced connectivity, and led to a rise in demand for apartments and housing in the commercial capital and its suburbs.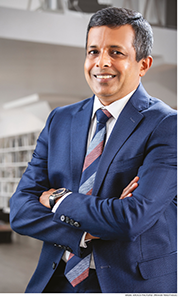 Buyers are willing to invest in housing and apartments that offer scenic views, and quiet surroundings away from the hustle and bustle of the city – and they can find such housing in such locations.
In fact, the last five years have seen a staggering increase in the number of people residing in apartments, which is a segment that has displayed stronger demand compared to others such as housing and land.
SUBURBAN LIFE Chairman of Homelands Skyline Nalin Herath says: "The price of plots of land in Colombo and within city limits is high, and always increasing. For that reason alone, individuals prefer to purchase apartments in Central Colombo, which is more affordable in comparison."
He continues: "There has been quite a notable increase in geographical growth due to improvements in infrastructure and connectivity. The construction of the Southern Expressway, Outer Circular Expressway and Katunayake Expressway has created new real estate hotspots in Kottawa, Malabe, Kahathuduwa, Kadawatha, Ja-Ela and Negombo among others."
When it comes to developing real estate in smaller towns and cities, he sees an increasing number of individuals willing to invest in homes in the suburbs of Greater Colombo due to improved infrastructure and transportation. Herath reveals that in recent months, he has observed an increased interest in these areas on the outskirts of Colombo.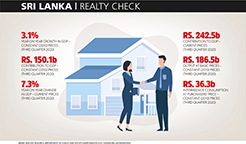 Amid the pandemic, there has been a notable increase in inquiries about investing in Sri Lanka – especially by Sri Lankans living overseas. He believes that since the island is considered to be a popular location to own property, the number of both Sri Lankan diaspora and expatriates who are looking to invest locally has risen.
"Under the government's 2021 budget, the changes announced with regard to the implementation of reform propositions in the area of real estate encourage foreign investment. These reforms offer support beyond the measures already in place with a commitment to provide an advantage to the real estate sector in the country," he notes.
Herath elaborates: "Waiving taxes from the budget, and relaxing the regulations on investments in apartments and real estate by foreigners is a positive move. Therefore, there's a much higher demand for real estate – especially apartments."
Over the past couple of years, there has been a surge in apartment projects – both luxury and semi-luxury. "When it comes to differentiating between the luxury and non-luxury segments in apartments, it comes down to two primary factors – viz. affordability and convenience," says Herath.

He explains that "Sri Lanka's real estate prices are presently among the highest in the region due to the escalating value of land and cost of construction. This in turn impacts the final cost of purchasing a luxury apartment, which is priced high as a result."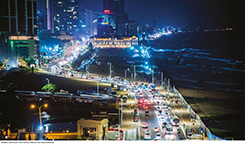 Current statistics suggest that between nine and 10 percent of residents choose to live in apartments in Sri Lanka. Meanwhile, the likes of Mumbai, Singapore and Malaysia have 80 percent of their residents living in apartments. In contrast, Sri Lanka had less than four percent of its population living in apartments in 2010.
According to available information, there's a notable increase in apartment living in the country. Moreover, the share of people living in apartments is expected to rise to 20 percent by 2030 based on the recent trends, he informs.

COMING HOME Herath notes: "Furthermore, we believe that due to the way the government handled the COVID-19 pandemic, more Sri Lankans residing overseas are interested in purchasing apartments and property in their motherland."
According to the Department of Census and Statistics, the island's per capita income increased from US$ 2,057 in 2009 to 5,075 dollars last year. Increasing disposable incomes will lead to more big-ticket purchases such as real estate, which augurs well for the mushrooming vertical structures rising against the city skyline in particular.
THE ROAD AHEAD There are plenty of opportunities and many challenges ahead. Since Sri Lanka is still at a nascent stage in condominium development, it should leverage on adopting green building practices.
These would include natural ventilation systems, optimising natural lighting, and having open spaces for more environmentally-friendly and sustainable construction processes, which attract homeowners who are increasingly conscious of wellbeing and healthy lifestyles.
"In general, projects are being completed and handed over on time. However, in the very recent past, our company faced slight delays due to the pandemic as it was a situation beyond our control. But we have managed to make up for lost time and are progressing well," he assures.
The Chamber of Construction Industry of Sri Lanka (CCI) forecasts that the country needs an additional 400,000 workers to complete ongoing and imminent real estate projects. That said, there's been a serious dearth of skilled labour for a long time and the industry will have to move quickly to surmount these practical challenges.
But the good news is that there weren't many negative impacts on the real estate sector during the pandemic. On the contrary, there was a spike in sales, inquiries and an evident escalation in land prices, revealing a large number of prospective investors who are both local and Sri Lankans residing overseas.
But import restrictions, travel bans due to the pandemic and gloomy economic conditions prevailing around the world could have a bearing on the expected increase in real estate purchases.
Meanwhile, the progress of the Port City (Colombo International Financial City – a.k.a. CIFC) construction is being watched closely by potential investors who may want to own a slice of the hottest new real estate location in this part of the world.
The interviewee is the Chairman and Managing Director of Homelands Skyline