PENALTIES FOR ERRANT DRIVERS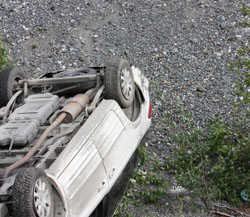 Minister of Finance Ravi Karunanayake is reportedly taking steps to have tough controls in place to penalise errant motorists, to combat the increase in road deaths mostly due to reckless driving.
Police records confirm that 3,000 people have been killed in traffic accidents this year. This is also said to be causing the government to spend a large amount of funds for treating these accident victims in government hospitals.
In the light of such statistics, the Finance Minister has vowed to instil a sense of discipline and respect for traffic rules among the public by imposing high fines on offenders.
A minimum traffic fine of Rs. 2,500 has been proposed, amidst much resistance, with the intention of saving lives of motorists as well as pedestrians.