PELWATTE DAIRY
Pelwatte Dairy Strives to make Sri Lanka Self-Sufficient in Milk 
Colombo, Thursday 29th May 2019: In the day and age of "Super Foods", milk stands out strong with its inclusion of many if not all nutrient groups and the ability to transform it in to a variety of other milk-based products that are easy to consume. There are over 264 million dairy cows' worldwide, producing nearly 600 million tonnes of milk every year. That is a a staggering number in itself that is ever-growing.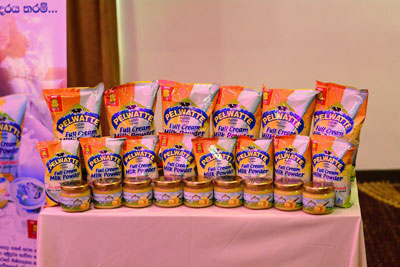 In celebration of this global food the Food and Agricultural Organisation of the United Nations (FAO) declared the 1st of June World Milk Day. First held in 2001 this day is celebrated internationally and is the perfect opportunity to focus attention on – milk and 'raise a glass to celebrate the benefits of milk for our lives.' This year's celebrations pay special attention to our region under the theme, "Milk for Health and Prosperity of Southeast Asian region".
After the United States of America, India is the largest milk producing nation in the world making the Southeast Asian region vital for the global need for milk. In this backdrop, Sri Lanka which has a longstanding history of dairy farming, is also attempting to become a nation self-sufficient in milk. Although the industry has been dominated by foreign brands and foreign importers, Pelwatte Dairy Industries the first private sector firm to invest in a milk production plant is in the forefront of promoting self-sufficiency in milk for Sri Lanka. The company stands out as a leading manufacturer of dairy products that are fully produced locally. Pelwatte prides in ensuring that 100 percent of the milk used is locally sourced and is 100 percent organic without any added preservatives to increase shelf-life. This assures that locals are delivered the cream of the cream, the best of the best, the healthiest and the highest quality dairy products.
2018 in particular saw Pelwatte Dairy increasing its production capacities at its state-of-the-art factory complex in Buttala with the addition of a third milk powder plant and an extension to its cattle feed manufacturing plant as well. Currently the plant employs more than 350 staff while over 25,000 farmers spread throughout the country directly benefit. Not only do these farmers benefit directly through selling their produce, but are also extended additional benefits by Pelwatte Dairy through a unique welfare scheme.
Pelwatte Dairy's extensive product portfolio includes liquid and powdered milk, butter, yoghurt, ice-cream, flavoured milk, ghee and many more. A highly-skilled research and development department also constantly strives to introduce innovative products to the market in order to gain further market share. This team also visited Singapore last year to be trained on the process of manufacturing a premium ice-cream brand which is current in testing stages and due to be introduced to the market later this year.
"Sri Lankans are becoming more and more aware of healthy lifestyles and are looking for 100% natural products. If those products are locally manufactured, it's even better. This we believe is a stepping stone for Pelwatte Dairy to take our brand to the next level. As the only 100% local dairy manufacturer we want people to take pride in being a customer and join hands with us to make Sri Lanka self-sufficient in milk. As we celebrates World Milk Day, this is what Pelwatte wants to extend a special note on congratulations to the dairy farmers who help us ensure that we deliver Sri Lankans the highest quality dairy products while conserving valuable foreign exchange currently spent on imported dairy products", said Pelwatte Dairy's Managing Director, Akmal Wickramanayake.
For more information on Pelwatte Dairy's products and service please call 0115 990111.