PASSENGER HANDLING UPGRADE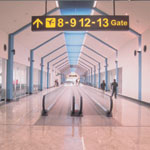 Annual passenger handling capacity is expected to increase from six million to 15 million at the Bandaranaike International Airport (BIA), with the construction of a new multi-level terminal building with a floor area of 180,000 square metres. The BIA's hourly runway capacity will also increase, from 25 aircraft movements at present, to 35 movements.
The new terminal will be available for commercial operations by 2020, until which time the existing terminal will be upgraded, to accommodate traffic. Moreover, the new terminal will have an electronics mall, a modified immigration area and an expanded checking area, among other features.
The project is expected to take approximately 12 months for completion.