MEGAPOLIS RISKS KELANI RIVER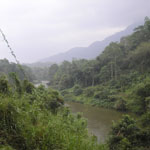 The Megapolis project could pollute the waters of the Kelani River, adversely affecting the one million people who live nearby, according to the Country Representative of the International Union for Conservation of Nature (IUCN) Sri Lanka.
The Kelani River is one of the cornerstones of Sri Lanka's economy. At present, over 10,000 small and large-scale businesses are located in the vicinity of the river bank, while only 3,000 such businesses have an environmental pollution licence to operate. This leads to increased water pollution, due to chemical and other waste.
Authorities have found that the river is home to a high level of bacteria, which is unhealthy, and poses a considerable threat to the environment and society at large. Polluted river water will also raise agricultural, urban and industrial issues, where water treatment plants alone will not be able to clean the waste.
Thus, the need for public-private partnerships is highlighted, especially now, when Colombo is heading for accelerated growth.