PAN ASIA BANK
First Sri Lankan bank to be bestowed with the Global Climate Partnership Award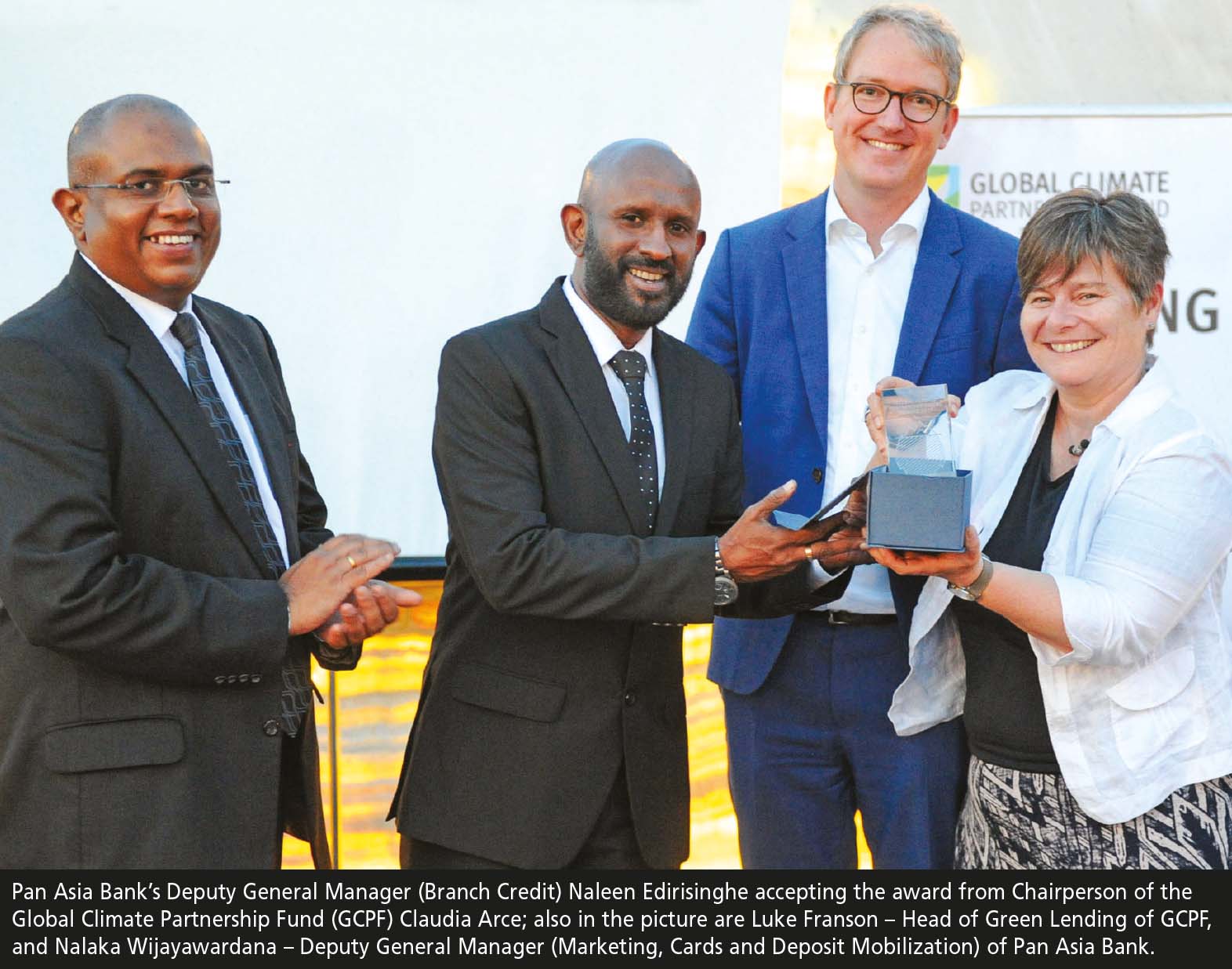 Driven by a vision to become the preferred commercial bank in Sri Lanka, Pan Asia Bank asserts that its commitment to satisfying stakeholders through professional, personalised, secure and quality banking and financial services – while believing that its dedication to society and the environment – sets it apart from others.
The bank was recently bestowed with the Global Climate Partnership Award in Tbilisi, Georgia, in recognition of its commitment to green financing and sustainability, making it the first Sri Lankan bank to receive the award.
Presented by the Global Climate Partnership Fund (GCPF), the award recognises exceptional efforts taken by organisations towards energy efficiency, renewable energy projects, green lending offerings and institutional capacities.
GCPF is an innovative public-private partnership that focusses on mitigating climate change through the reduction of greenhouse gas (GHG) emissions.
It finances energy efficiency and renewable energy projects, for SMEs and private households in developing countries, by partnering local financial institutions.
Director and Chief Executive Officer of Pan Asia Bank Nimal Tillekeratne comments: "We're proud to be the first bank in Sri Lanka to be recognised by the Global Climate Partnership Fund, which invites partnering financial institutions to showcase how they've incrementally advanced green lending efforts."
"To be selected from amongst strong contenders for the award reaffirms our sustainability strategy directed towards green financing solutions whilst also making efforts to lower GHG emissions and make our footprint green," he states.
"Green lending is a sector of immense importance that supports the growth of Sri Lanka in a socially responsible manner. Our efforts towards the development of processes and policies – such as the Social and Environmental Management Systems (SEMS) policy, appointment of green champions and investment in our people by providing training on green lending with the support of GCPF's technical assistance facility – were also reasons for this coveted award," he adds.
Pan Asia Bank says it is committed to funding green initiatives and implementing sustainability projects within and outside the bank's operations. It believes that this will create an opportunity to generate long-term sustainable economic benefits to uplift the overall standard of living by creating cost-efficient energy solutions – while preserving the environment by promoting renewable energy – which would substantially reduce Sri Lanka's dependence on imported oil.
Entries for the award were scrutinised by four judges with experience in the green lending field. The award categories consisted of Individual Capacities and Skills to Implement Green Lending at the employee level; Institutional Capacities, Infrastructure, Strategies and Processes at the organisational level; and Project and Green Lending Product Range at the service level.
Pan Asia Bank's proposal highlighted its Hybrid Leasing, Solar Loans, Drip Irrigation Loans, mini hydro projects and green debt securitisation, which promote the concept of green lending. Environment related events conducted by the bank were also mentioned in the application. The bank takes pride in being selected for the award, noting that it will continue to have a positive impact on the local environment and economy as a whole.
Telephone 4667222
Email customerservice@pabcbank.com
Website www.pabcbank.com