ONLINE REVOLUTION
Livestreaming Storm!
Ruwandi Perera is awed by the pace of livestreaming throughout the world
Remember the days when we sat glued to the telly to catch a live match, musical show or other event? And if someone you knew or backed was on live TV, you'd probably be nervous, anxious and proud, hoping they would do the job – because there were no retakes!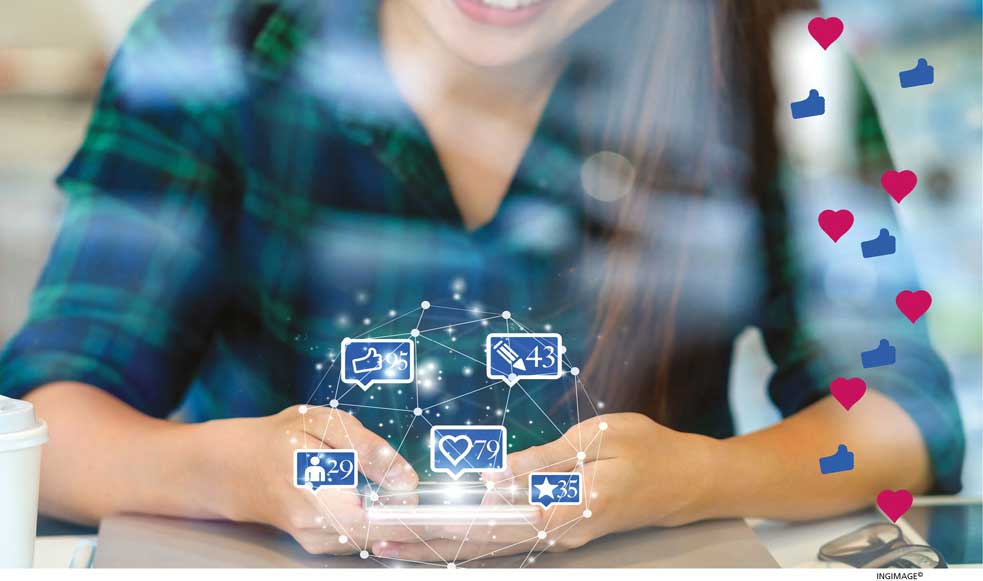 These days, anyone can be on television and it'll be available to the entire digital world rather than being limited to TV audiences.
Ever since livestreaming was introduced in the 1990s, it has taken the world by storm. It's empowering, exciting and exhilarating to be able to reach virtually the entire planet in real time using only your smartphone!
This is probably why livestreaming has become the go-to channel for marketers, politicians, rock stars, sportspeople, petitioners and anyone looking for their fifteen minutes of fame.
The technology was first tested on 24 June 1993 by a group of scientists who happened to be in the same building where American rock and roll garage band Severe Tire Damage was performing.
Though the bandwidth and connection weren't nearly as good as what we enjoy today, the band's performance was broadcast live and became the first livestreamed event.
However, it was YouTube that blew the livestreaming industry up to dizzy heights with a little help from an unaccepted competitor. As it turned out, YouTube hosted its first live event in 2008, livestreamed simultaneously from San Francisco and Tokyo, featuring heavyweights such as Katy Perry, Smosh, MythBusters and Bo Burnham.
And although it was successful, the concept didn't take off.
Twitch launched a new streaming platform for online video games three years later; and in only a few years, it had over 45 million viewers a month! This led YouTube to iron out its service, fix its policies and make livestreaming possible for any registered user in 2013.
Others followed – and soon, Twitter, Facebook, Instagram and a host of other social media platforms joined the bandwagon.
Livestreaming is online streaming media that's recorded and broadcast in real time. Unlike video on demand, vlogs and YouTube videos, it allows users to create, share, watch, and engage with live events as well as people, through smart devices. Everything is uncut, unedited, uncensored and of course, live!
This cost-effective technology has also boosted another industry – e-commerce!
Businesses can now market, brand, and sell products and services online, using presenters and influencers to demonstrate, review, explain benefits and announce offers. What's more, this can be done in-store, in a studio or from the demonstrator's house as long as there's a working internet connection and smart device.
China is probably where livestreaming e-commerce has been perfected. There are actual incubators to nurture influencers and it's a major achievement for young people to become livestream demonstrators – or 'livestreamers' to be exact.
Livestream selling was a lifesaver for influencers and companies during the pandemic, and it's probably the biggest revolution in the e-commerce sphere. A recent BBC report estimated that with global consumer confidence returning, the livestream online shopping market will double in value to around US$ 282 billion this year.
It's not only in the East that livestreaming has its hottest markets. Even platforms like TikTok and Amazon have launched their own livestream sales channels with demonstrations for prospective customers to engage with and make purchases.
A sales session on a livestreaming platform generally consists of four components – viz. a video stream with the host demonstrating the product, a catalogue of sorts including the product in focus, a chat window for viewers to engage and ask questions, and a reaction button to share emotions.
Under the circumstances, livestream sales techniques have proven to be impactful and effective – for anything from food and clothes, to electronics and cosmetics. Having a demonstrator virtually shop for you is definitely a trend we'll be embracing sooner or later.
Nevertheless, livestreaming does have a darker side, which can't be ignored.
There have been several incidents of livestreamed suicides, and villains committing crimes such as assault, rape, and shootings. Online harassment in the way of vulgar comments and distressing messages are also common as is the manipulation of young livestreamers by viewers.
In spite of the negatives however, livestreaming is a powerful platform with great potential and it's possibly the biggest revolution in online engagement that will certainly go mainstream!