ONLINE FESTIVITIES
VIRTUAL PARTIES

CAN BE FUN
Ruwandi Perera helps plan a holly jolly online Christmas bash this year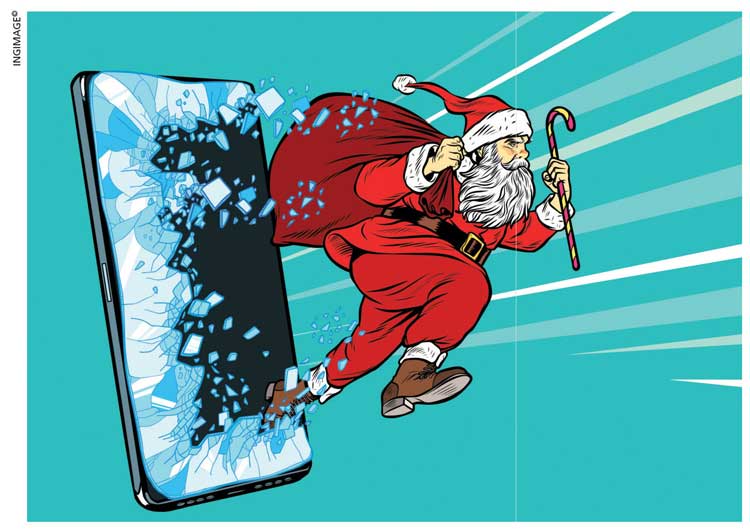 It's probably the biggest party of the year for many organisations. But when you're planning the office Christmas party this time around, you may have some other things to think about!
Can everyone feel safe enough to come – and how about mask rules? (Thanks, COVID-19!) Would people be able to drive or should we provide transport? (Thanks, fuel crisis!) Could we squeeze it into our budget and serve alcohol? (Thanks, economic crisis!) Would people want to come and will they know each other well enough to party together? (Thanks, working from home!)
If any or all these questions receive negative responses, you may want to think about having an online celebration, which by the way can't be another office meeting!
Throwing a digital Christmas party may be super easy or difficult, depending on how tech savvy your employees are and how creative you can get. These e-party planning tips will help you organise a fun filled digital Xmas bash for your office without getting your stockings in a twist!
First, similar to picking a venue to host a traditional Christmas party, you'll need to get your tech platform sorted. While most offices will be comfortable with Zoom, MS Teams or Google Meet (these e-forums can easily accommodate a digital do), a Christmas party may require some additional platforms for games, raffle draws, seasonal donations and other cyber party items.
The key is to have func­tionality over aesthetics and usability trumping fanciness. Send out a simple guideline – not more than a slide or two – so that employees know their way around these platforms before attending the party.
Second, picking a good time is vital – especially if your colleagues are not all living in the same time zone. Avoid peak times or rush hours (in terms of both work and household activities) when people might be tempted to step away from the party; or worse, turn off their cameras and pretend to be there!
Next, think about food. Although a cyber party is technically intangible in principle, there are always creative ways around it. Plan a menu with a restaurant that offers a delivery service and ensure the food reaches your employees in time for the party.
If catering, ordering and delivering sounds like a logistical nightmare, perhaps you can work with an app-based delivery service to have a special menu for your coworkers to order from using a code during party hours.
Now, decide on a theme. While Christmas is the obvious choice, you can decide what kind of bash you want to host since it's a digital party. It can be a cyber cocktail party at which your employees can follow instructions given by a professional mixologist in real time and enjoy an at home happy hour.
And if your colleagues prefer to sit back and relax, you can host a virtual watch party. You can opt for an easy to sync platform such as Teleparty, which will allow everyone to watch a movie together – and also, enjoy group chats on the side! Make sure you distribute an online poll beforehand to decide what movie to watch…
Online parties also open up the floor for a myriad of games. With apps like QuizUp, Kahoot! and Crowd­Party, you can play anything from Scrabble to scavenger hunts with your employees… preferably, on a Christmassy theme. If hosting games sounds like too much trouble, you can hire online gaming companies such as TeamBuilding.
If your organisation likes to kick things up a notch, perhaps you can look at hosting a virtual casino night to get staff to double down and play to win. Even better, make it a charity drive to raise money to donate to a worthy cause – after all, it's the season of giving.
Since things are digital, you'll also need to think of virtual gifts that still mean something. Avoid the delivery dilemma and opt for online vouchers, subscriptions or even charity donation options.
Don't forget a virtual Christmas photo booth such as Snapbar, which will take screenshots of the attendees and superimpose them on a variety of backgrounds.
Last but not least, stick to time. Physical Christmas parties can go on till dawn… but when things are virtual, keep it short and sweet – an hour or 90 minutes at most. Keep everyone informed of the time and agenda; and then keep to it, to avoid people logging off or getting bored. Remember to wrap things up before it's too late!
Virtual parties might not be as impossible to host as they seem – all that's needed is a bit of creativity and tech-centric planning to make it a digital miracle. Oh, and hope and pray that there won't be any power cuts!