OCEAN LANKA
Ocean Lanka Wins Big at the NCE Annual Exports Awards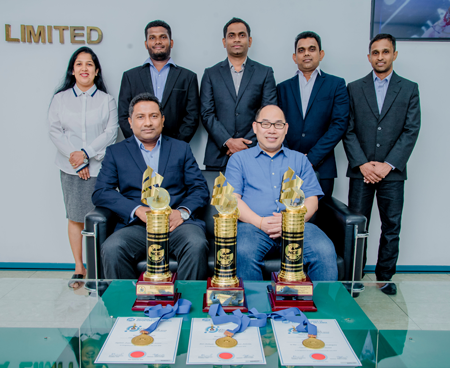 Ocean LankaPvt Ltd, Sri Lanka's largest weft knitted fabric manufacturer clinched 03 top honours at the 27th Annual Export Awards 2019 of the National Chamber of Exporters of Sri Lanka (NCE), taking the Gold Awards for 'Suppliers to Exporters Sector' in the Extra Large Category and 'Best Performer in Research and Development'. The company was also the recipient of the much coveted 'Highest Export Turnover' Special Award. The awards were presented at the gala awards ceremony held at Shangri-La Colombo recently.
Commenting on the awards, Dr. Austin Au, Managing Director of Ocean Lanka said, "Even though our business is traditionally happy to fly under the radar, Ocean Lanka plays a key role in the ongoing development and growth of the Sri Lankan economy. The company continuously strives to make a profound impact in the community in which operates, by committing itself to economic, ecological, and social sustainability. Hence, the awards were indeed a great recognition for our most successful and innovative measures."
"Ocean Lanka works with a highly professional approach, while maintaining ethical business practices. All our production units are GOTS (Global Organic Textile Standard) certified for processing organic cotton, embracing a social compliance as well as rigorous criteria related to environmental management. The company also works with The Better Cotton Initiative (BCI). Further, preparations are underway to obtain ISO 50001 (Energy Management system) and ISO 14064-1 Carbon foot Print (Greenhouse gases) certifications, in a bid to reduce the amount of CO2 generated for every kilo of fabric produced." he added.
The Annual Export Awards are the NCE's highest recognition of export achievement and the most looked forward to event in the business calendar in Sri Lanka. Awards were determined by several sets of criteria, including: financial performance, export performance, net foreign exchange earnings, number of jobs created and retained, R&D and factors indicating progressive business practices and good governance for sustainability.