NUMBER OF ACCIDENTS EDGES HIGHER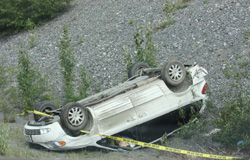 Sri Lanka has witnessed 29,630 accidents and 2,207 deaths in the nine months to September, according to police reports issued to the Health Ministry, with Ministry sources further noting that 2,019 accidents had resulted in deaths.
While 29 percent of deaths were due to road accidents, six percent and nine percent were due to drowning and suicides respectively.
Hospital records also indicate that 66 percent of accident victims were males.
The main reasons for the high accident rate in Sri Lanka have been identified as high-speed driving, ignorance of drivers and pedestrians, use of mobile phones while driving and walking, and not following road rules.