TOWN PLANNING
NO LONGER THE

GREEN LUNG
Janaka Perera says we should rethink town planning in once verdant Colombo
The history of Sri Lanka's town planning as we know it today goes back to the colonial era. Based on British town planning, the Colombo city plan was modified in the context of the empire. Although many changes were introduced in the post-independence era, to date they have not adequately addressed crucial issues even though 70 years have passed since Ceylon gained independence.
More than six decades ago, Sri Lanka was not developed in the contemporary sense of the term. At the time, we didn't have televisions, transistor radios, mobile phones, fax machines or the internet and a far lower number of motor vehicles were plying the roads. Looking at old photographs of Colombo and its suburbs, one would see how peaceful the surroundings looked – and note with envy the extent of greenery and garden space that was available.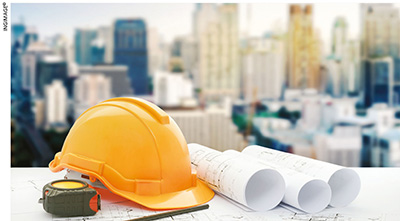 Many government and private company offices had no air conditioning but only ceiling fans. Buildings were constructed to suit the country's climatic conditions as in colonial and precolonial days. In Colombo, we also had tramcars and trolley buses (which continue to be used in developed countries to this day) – and they didn't contribute to environmental or noise pollution.
Today, the moment a power failure occurs and causes air conditioning to cease functioning, many a modern building and house in Sri Lanka becomes a furnace unless there is generator power – except perhaps in the hill country.
Obviously, we cannot go back to the past. Therefore, the question is why successive governments failed to focus on the need to build environmentally sustainable cities for the future.
Modern concepts design with citizens rather than cars and commerce in mind. Such designs should inspire the community and create conducive living environments. There is a growing body of research underlining the connection between human health, and the design and structure of towns and cities.
Around the world and especially in Europe, a growing number of cities are limiting the use of cars in certain neighbourhoods through fines, better design and in some cases even paying commuters to leave their vehicles at home, and opt for public transportation.
According to E&E News, behind this shift is an effort to reduce traffic and pollution, combined with a change in urban lifestyles, and an attempt to rebalance public spaces in favour of cyclists and pedestrians. With less than 600,000 residents, Norway's capital Oslo is up for this. It has announced a ban on all vehicular traffic from the downtown core by next year.
Whether or not it is easy for people to walk, cycle, engage in recreation, use public transport and interact with the community depends on the way cities and neighbourhoods are designed. Currently, urban development in Sri Lanka does not support public transport, and is unfriendly to walking and cycling. The less said about our bus services the better!
It is also high time we had a metro system or subways beginning with Colombo to ease traffic congestion in major cities and towns, and minimise unnecessary delays. A key advantage of subway systems is that they're comparatively healthier for commuters and reduce noise pollution.
The construction of flyovers in Colombo and its suburbs has not brought about the expected results in easing traffic congestion. In addition, some of the condominiums in the city and many other high-rise buildings that have come up in severely congested suburbs such as Wellawatte are eyesores to say the least.
On environmental issues, systems ecologist Dr. Ranil Senanayake emphasises that clean air is essential for healthy living. He contends that Colombo's urban population will suffer for generations to come as they face the consequences of high impact buildings that could block the flow of fresh air from the sea the moment construction work begins on the CIFC (Port City).
All construction sites generate high levels of dust (typically from concrete, cement, stone and silica), which can carry for long distances over a long period of time. The garbage disposal system remains a health hazard in some areas because solutions have often been ad hoc. Surviving victims of the Meethotamulla garbage dump disaster have yet to be adequately compensated.
On a visit to Australia earlier this year, I was travelling with a friend in Canberra when we passed a hilly area with an abundance of greenery. It blended well with the rest of the natural surroundings. I was surprised to hear from my friend that the landscape was created over a garbage dump of which no sign is visible today!
When will Sri Lanka find such solutions to dispose of its mountain of garbage?
The above factors – together with unwelcome climatic changes including global warming, as well as the energy crisis – are a warning that we should consider alternative methods of city planning and construction that will bring us closer to nature.