NEW LAGGALA GREEN TOWN NOW READY
The new Laggala green town – constructed on a 75 hectare plot of land – will be inaugurated by President Maithripala Sirisena on 8 January. The old town had been inundated by water from the Kalu Ganga reservoir. As a result, the entire town has been relocated to a safer place with improved facilities.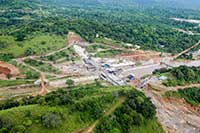 Over 3,000 families who lost their homes due to the Kalu Ganga project have been relocated to the new environmentally-friendly town with each family unit receiving half an acre of land for housing and two acres of paddy land. Twenty-three government institutions have been set up in the town and all business ventures from the old town have been relocated here as well.
According to Chief Residential Engineer of the Kalu Ganga project A. K. D. Tennakoon, "when planning the town, modern technology and concepts were used. All institutions such as business ventures, economic institutions and community centres are located in a systematic manner. There are six banks in one location. Under the green concept, electricity for the entire town will be provided by solar power."