NATIONAL REJUVENATION
NEW CHINESE ERA UNDER XI
Samantha Amerasinghe considers the implications of China's 19th National Congress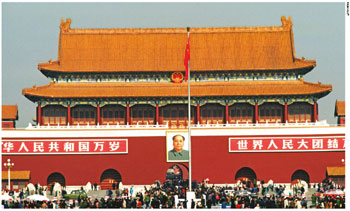 Three important decisions were taken at the 19th National Congress of the Communist Party of China (CPC), which concluded on 24 October – and they will shape China's future. First, it endorsed President Xi Jinping's report, which aims to achieve 'national rejuvenation' by 2050.
More importantly, it also extended Xi's legacy by enshrining his political ideology 'Xi Jinping Thought on Socialism with Chinese Characteristics for a New Era' in the party constitution as a guiding principle. It also elected the Central Committee.
As widely expected, the 19th National Congress cemented Xi's 'core' position in the CPC so he has consolidated his hold on power. The composition of the seven-member Politburo Standing Committee (PSC) – China's top decision-making body – and the lack of clear successors when Xi's term ends in 2022 cement his power.
Following this consolidation of power, the agendas of central and local government officials are more closely aligned with that of the top leadership. This is likely to lead to more effective policy implementation in the next five years.

The party constitution was amended to adopt 'Xi Thought' as a guiding principle. This move suggests that Xi enjoys a much stronger position than his immediate predecessors. It took only five years in power for Xi's political ideology to be enshrined in the constitution as a guiding principle.
By comparison, former President Jiang Zemin's 'Three Represents' ideology became a guiding principle towards the end of his final term, and President Hu Jintao's 'Scientific Outlook on Development' was incorporated into the constitution in 2007 and adopted as a guiding principle in 2012.
'Xi Thought' is named after Xi Jinping, putting him on a par with Mao Zedong and Deng Xiaoping, the only other transformative leaders (one unified China and the other opened it to market forces) who have been granted the same distinction.
This requires a strong consensus, suggesting that Xi has garnered broad support within the party by cracking down on corruption, overhauling the military and adopting a more assertive foreign policy stance during his first five year term as China's leader. 'Xi Thought' aims to achieve modernisation and 'national rejuvenation' (also referred to as the 'Chinese Dream') by the middle of the 21st century.
Xi proposed a two stage approach by building on the existing goal of achieving a 'moderately prosperous society' by 2020. This suggests that China will play a more active role on the global stage – which is exemplified by its ambitious Belt and Road initiative launched in 2013 – and Beijing assuming a leadership role on globalisation and climate change in response to America's realigned priorities.
Growth targets are likely to become less important post-2020. The Chinese government remains committed to doubling 2010 GDP by 2020 and will likely maintain a growth target of around 6.5 percent over the next three years but will lower targets thereafter.
Meanwhile, growth targets beyond 2020 are likely to be indicative and non-binding, providing the government with more room to target deep-rooted structural issues. The government will be willing to accept slower growth but adopt measures to avoid a hard landing. As a result, policy stimulus will become more neutral.
Economically, China's growth momentum remains solid, driven by the services sector and domestic consumption. The labour market is also stable with the survey based unemployment rate falling below five percent in recent quarters. Deleveraging will therefore, remain the top priority in 2018 and possibly beyond.
The National Congress did not deliver major surprises on the broad direction of economic reforms as Xi was the architect of China's existing plans. State owned enterprise, and fiscal and financial reforms, rank high on Xi's reform agenda set against the backdrop of deleveraging although the full version will be finalised only in the fall of 2018 at China's 3rd Plenum.
State owned enterprise reform is now aimed at making 'state capital' (not 'state owned enterprises') stronger, better and bigger, and foster world-class enterprises. This subtle change suggests that the government will not protect loss making state owned enterprises at any cost since doing so could drain state capital. It provides the scope to do away with zombie enterprises and channel state capital into more efficient enterprises.
Governor of the People's Bank of China Zhou Xiaochuan – who has steered China's financial reforms and market opening for the past 15 years – is likely to retire in the next few months. This may bring about a change in the pace of financial reform, depending on who succeeds him, although the general policy direction of market opening and tighter regulations will likely remain intact.
Xi highlighted the importance of developing capital markets and reducing reliance on bank lending, improving the 'dual pillars' of monetary policy and macro prudential assessment, deepening interest and exchange rate reform (by moving to a more flexible exchange rate regime next year), and strengthening the financial regulatory system to prevent systemic risks.
The change of guard at the central bank could take place any time before the National People's Congress meetings next March.