APPAREL INDUSTRY

Shirendra Lawrence
MEASURING THE STATUS QUO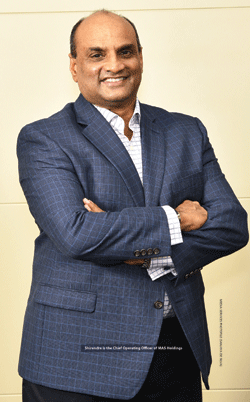 How is Sri Lanka faring in terms of apparel exports today?
We've enjoyed epic growth levels over the last four decades. Initially, there was a large number of players – probably over 700 companies by the late 1990s – exporting around US$ 2.5 billion worth of goods collectively.
More recently, we have seen that value double although this has been channelled through around 100 exporting companies and conglomerates. Also, the industry provides direct employment to around 400,000 people and even more than that number indirectly.
The shift from a sizeable collection of small-scale manufacturers to a smaller number of larger players has shifted the focus to specific customers and product segments. And we've built a reputation of being strategic supply chain partners to reputed global brands.
While we may not be everybody's cup of tea, what Sri Lanka provides is a better value proposition than those offered elsewhere – we offer innovation, product design and development, manufacturing, value addition and ultimately distribution solutions.
How have trade agreements affected the industry?
Trade agreements are by and large time bound. So traditionally, many brands and buyers wouldn't base their sourcing strategies on such agreements.
However, the number of bilateral and multilateral trade agreements has increased. And given the increasingly competitive marketplace, even the most reputed brands are now looking to leverage these and be more competitive.
From a Sri Lankan perspective, we have witnessed strong growth in exports to Europe when GSP+ was in operation. And similarly, when we lost it, the growth rate slowed down. With GSP+ returning, we've already seen a 10 percent increase in exports in the first seven months of this year and this trend is expected to continue.
To enjoy higher levels of growth, we need more investment as the available capacity has been utilised.
How do you view the emergence of new markets?
Trade to the West will continue and grow incrementally but emerging markets in the East will provide us with a multitude of new opportunities. To be on the front foot, we need to understand the Eastern consumer better, and adjust our capabilities to provide differentiated products and service levels. Trade agreements with new markets will naturally have a positive impact on these opportunities.
In which ways is the focus on innovation changing the game so to speak?
Innovation is a key focus of the apparel industry. And the winners will surely be those who invest wisely in product, process and business model innovation.
From a product standpoint, most leading Sri Lankan manufacturers have felt the need to extend their offering beyond product development into design services and innovation.
We've also invested in understanding the end consumer better – i.e. rather than assuming that the brand's interpretations of the market are accurate and developing products in line with consumer needs. This has meant developing a new set of competencies.
What are the prevailing industry trends?
Better, faster and cheaper is the name of the game – and consumer expectations are greater than ever before.
As for emerging trends, orders are smaller, replenishment times are shorter and brands are offering more seasonal changes than they have in the past in order to attract customers. We've had to support them during the course of this journey.
E-commerce in the form of online purchasing is disrupting the high streets of the West. With the emergence of new 'only online' products, existing brands have had to expand their product offerings into this space to remain competitive.
Supply chain partners have no choice but to assess these new needs, and understand what they need to do to remain meaningful and add more value.
Are there issues relating to talent in the apparel industry, in your opinion?
Traditionally, Sri Lanka's apparel industry has been better positioned than most of our neighbouring countries. Therefore, it has attracted talent at both the shop floor and executive levels.
Competition from other industries, and the growing demands of customers, have meant that attracting, growing and retaining talent is more important today than ever before. So we're surely facing challenges.
What is your mantra for success?
What gets measured gets done.
 Describe yourself in one word…
Focussed
– Compiled by Ruwandi Perera
Shirendra is the Chief Operating Officer of MAS Holdings