MOST RESPECTED 2017
FOREWORD
Business Benchmarks
The 13th annual edition of the Most Respected salutes Sri Lanka's corporate image leaders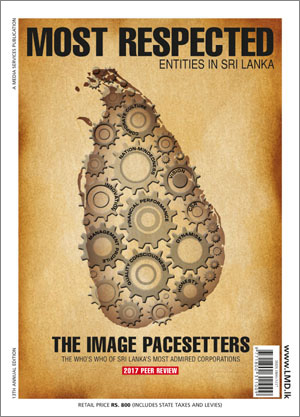 Year 2017 has thus far proved less than ideal for the Sri Lankan economy, which has had to withstand several major calamities that besieged the nation – mostly at the hands of the weather gods but also on account of glitches on the part of the administration.
This has been reflected in lacklustre corporate sentiment as well with the LMD-Nielsen Business Confidence Index (BCI) reflecting a broadly downward trend since the national budget was presented in parliament in November 2016.
And in the World Bank's 2017 Ease of Doing Business rankings, the country slipped to 110th position from 109th in the previous year despite reforms in certain key areas being recognised.
In the meantime, this year's Most Respected special edition continues with the tradition of adopting the Olympic Ranking System (launched in 2015) to determine peer perceptions of corporate admiration. Accordingly, Sri Lanka's most respected entities are awarded gold, silver and bronze medals to reflect their standing in the eyes of their peers.
And yet again, John Keells Holdings (JKH) is voted the Most Respected entity in the island with the highest number of golds for a record 12th year. JKH is followed by MAS Holdings, Dialog Axiata, Commercial Bank of Ceylon and Hayleys.
JKH strengthened its position in 2017 with 296 gold nominations compared to 239 last year. MAS also improved its position by gaining a place to take the No. 2 spot in the rankings while Dialog climbed three places to third. In contrast, ComBank dropped by two places to fourth while Hayleys maintained its fifth place from 2016.
Rounding off the top 10, Unilever Sri Lanka shed two spots to be placed No. 6, Hemas Holdings moved up by two steps to seventh, Sampath Bank fell by one place to eighth and Brandix Lanka was up a notch to ninth. In 10th position is Aitken Spence, which dropped by two places from the prior year.
The 10 most admired businesses in Sri Lanka include four of the nation's largest diversified groups, two private sector banks, a famed apparel manufacturing duo, a multinational consumer goods company and a leading telecommunications service provider.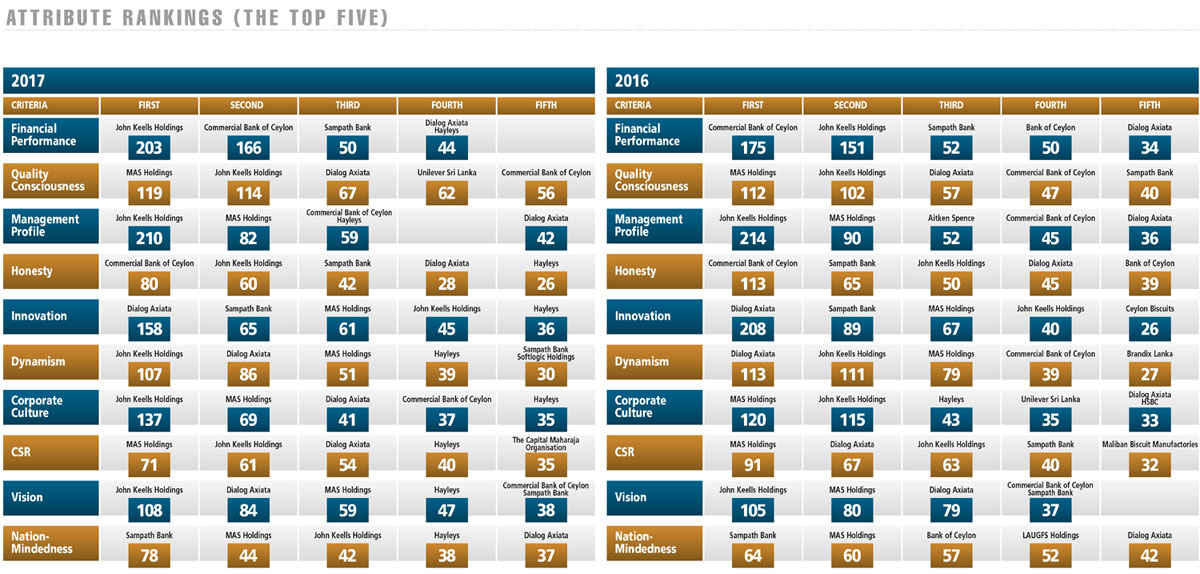 As for the 10 attribute rankings, JKH leads in five categories (financial performance, management profile, dynamism, corporate culture and vision) while MAS is numero uno on two counts (quality consciousness and CSR). Commercial Bank assumes leadership when it comes to honesty with Dialog leading in innovation and Sampath Bank being the most nation-minded.
– LMD/Media Services