FINANCIAL INQUIRY
Sri Lanka foreign minister quits amid bond scam probe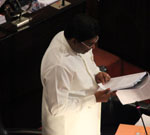 Colombo, Sri Lanka | AFP | Thursday 8/10/2017 – Sri Lanka's foreign minister resigned Thursday after being linked to a controversial financial trader under investigation for allegedly causing millions of dollars of losses to the island's coffers.
Ravi Karunanayake, 54, stepped down from the cabinet amid questioning over his connection to an insider trading scandal at Sri Lanka's central bank after the new government was elected in January 2015.
"I am not guilty of any of the allegations but I am resigning my portfolio to ensure that opponents are not able to destabilise our unity government," Karunanayake said.
Karunanayake has testified before an investigation ordered by President Maithripala Sirisena into then-central bank governor Arjuna Mahendran, who was sacked last April.
Mahendran was accused of misconduct surrounding alleged favours for his son-in-law, Arjun Aloysius, a bond dealer.
At the inquiry proceedings last week, Karunanayake, who is also the deputy leader of the ruling United National Party (UNP), admitted his family had dealings with the controversial bond dealer but insisted he was not involved in bond dealings.
Karunanayake, who was finance minister when the scandal broke, was given the foreign ministry in a cabinet reshuffle in May.
Prime Minister Ranil Wickremesinghe said the decision reflected well on his government, which came to power promising to tackle corruption.
"Today, the minister (Karunanayake) has shown that this government will not interfere in the investigations," Wickremesinghe said.
"Even when he is not guilty, he has shown he is stepping down on a matter of principle."
Opposition leader R. Sampanthan applauded Karunanayake for quitting but noted that he was entitled to the presumption of innocence.