MONETARY POLICY
Sri Lanka raises rates as growth slows, inflation spikes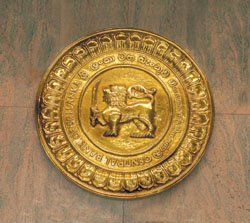 Colombo, Sri Lanka | AFP | Friday 3/24/2017 – Sri Lanka raised its key interest rate by 25 basis points Friday as inflation spiked and foreign reserves fell, compounding problems caused by slowing economic growth.
The Central Bank of Sri Lanka said it raised the benchmark lending rate from 8.5 percent to 8.75 percent as year-on-year inflation increased to 8.2 percent last month, sharply up from 6.5 percent in January.
Sri Lanka enjoyed blistering economic growth rates averaging more than eight percent for two years after a prolonged civil war ended in 2009.
But growth has been slowing ever since, hitting 4.4 percent last year, according to Central Bank data.
Foreign reserves fell to US$ 5.6 billion at the end of February compared to US$ 6 billion in December 2016.
"The Monetary Board was of the view that further tightening of monetary policy is necessary as a precautionary measure, in order to contain the buildup of adverse inflation expectations," it said.
A drought gripping parts of the island and unfavourable external conditions were hurting the economy, the bank said.
Last June, the government received a US$ 1.5 billion bailout from the International Monetary Fund (IMF) after facing a balance of payments crisis.
Earlier this month, the IMF said Sri Lanka's current account remained stable but the financial account weakened with the resumption of capital outflows.
The IMF also warned that a prolonged drought in the island could raise food and oil imports with adverse impacts on economic growth, inflation and the country's balance of payments.