MILESTONE FOR LOCAL RAILWAYS
Reaching new heights in Sri Lankan rail history, the new Matara-Beliatta railway line was declared open by the Minister of Transport and Civil Aviation Arjuna Ranatunga at a ceremony held on Monday under the theme 'Dakunu Lakata Aluth Magak' (new road to southern Sri Lanka).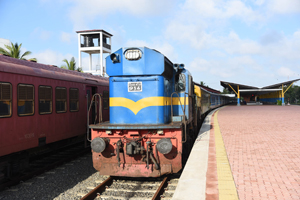 Following the inaugural run, the new track was said to be open for transportation from 2 p.m. onwards.
Seven trains have been planned to begin from Beliatta station: one to Galle, four up to Maradana, and two to Jaffna and Vavuniya.
Funded by the Export-Import Bank of China, construction of the Matara-Beliatta section cost a reported US$ 278 million – and at a length of 300 metres, the Beliatta station platform is claimed to be the longest train platform in Sri Lanka.