MiHCM
Microimage HCM Rebrands to MiHCM As Global Expansion Continues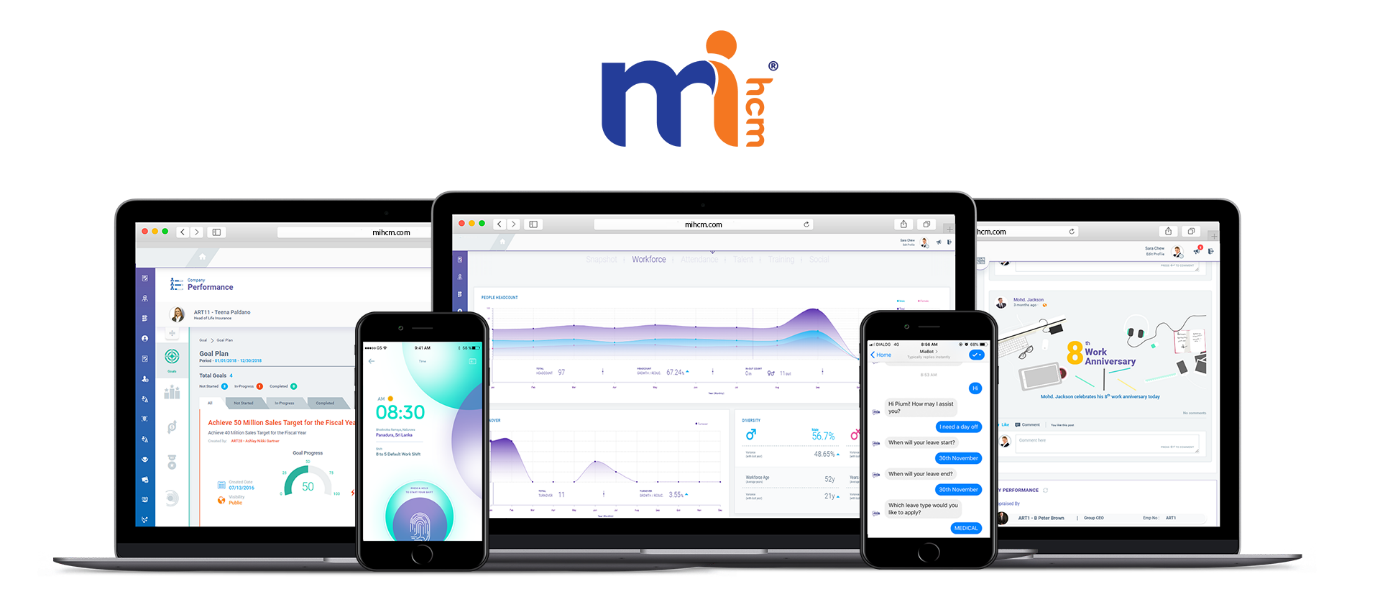 In a move designed to convey the transformative characteristics of its cutting-edge HR Cloud solution, Microimage HCM is rebranding to MiHCM. In tandem with the rebranding, the company has launched a new corporate identity encompassing its corporate colour blue combined with orange to represent enthusiasm, determination and creativity.
MiHCM CEO Harsha Purasinghe says, "We realised the importance of a more dynamic branding as we scale our product globally. Over the past 18 months, we have invested extensively in expanding our reach across the Asia Pacific region, expansion that we intend to continue going forward. We believe the new brand will help us better position globally as we build on the current momentum going into 2019."
MiHCM's Digital HR solution, HCM Cloud, was fully launched in early 2017 and now boasts more than 200 companies across 15 international markets. Clients span large banking and financial institutions, telecommunications, manufacturing, conglomerates, retail, start-ups and technology companies. In all cases, MiHCM Cloud helps these enterprises to build digital HR organisations that leverage the diverse portfolio of digital HR experiences.
Since first being launched two years ago as Microimage HCM Cloud, MiHCM has steadily expanded via a strong regional partner network and currently operates across Asia Pacific with plans to expand to other global territories starting 2019. The current network covers Singapore, Malaysia, Thailand, Philippines, Myanmar, Cambodia, Laos and Brunei. In Australia, Microimage has also established a strong partner network covering Australia/ New Zealand and Pacific Territories.
Global MiHCM offices are located in Sydney – Australia, Kuala Lumpur – Malaysia and Colombo – Sri Lanka which is also home to the firm's R&D hub. There are plans to set up offices in Singapore, the Middle East and Europe as MiHCM expands further. During 2018, MiHCM also entered the Bangladesh market, where the Indian sub-continent reach covers Sri Lanka, Maldives, Pakistan and Bangladesh. For 2019, the company plans to expand into Vietnam and Indonesian territories, as well as exploring the Indian market.
Full Digital HR Experience
MiHCM Cloud is an enterprise-grade HR solution delivered with a modern consumer-grade user experience, providing talent insights for timely and accurate decision-making using advanced analytics and natural language query functionality. Native mobile apps for iOS / Android help empower a mobile-first workforce and the platform also helps enhance employee engagement with collaboration, social and feedback capabilities.
Country specific legislative and language localisations are supported with seamless integration capabilities to other third party systems via secure APIs. Users are also able to stay current via "Mia", a virtual HR assistant, powered by BoT technology for 24×7 employee HR assistance.
HCM Cloud is powered by secure, scalable and stable Microsoft Azure cloud and is currently deployed in the UK, Asia and Australia Azure Data Centers. MiHCM is a leading IP Co-Sell ready ISV of Microsoft Corporation and works closely with all Microsoft offices across the Asia Pacific region.