MG CONSULTANTS
Q: How has MG Consultants (MGC) progressed over the years?
A: We are one of the largest consultancy firms in Sri Lanka, celebrating our 20th anniversary in August this year.
In our initial years, we were largely in the social and educational consultancy sectors. We then expanded into the road sector. Since then, MGC has diversified into more infrastructure related sectors and is now a leading consultant for expressways; national, provincial and rural roads; irrigation and drainage; water and wastewater; airports and ports; and ICT consultancy.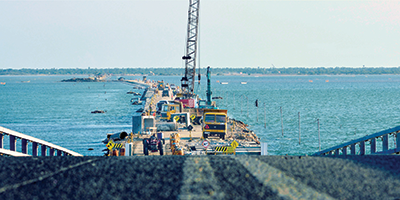 As a company, we have taken an unconventional approach to consultancy by expanding through acquisitions. Engineering Consultants – one of Sri Lanka's oldest and most respected engineering consultancy firms – was our first addition in 2003. Roughton Group – a UK based consultancy firm with over 65 years' experience and successful projects in nearly 100 countries – is the latest.
Another milestone was the formation of MG Group of Companies in 2016 due to our rapid expansion. It was necessary to create rationalised business units, to provide more focus and direction to key sectors. There are seven companies in the MG Group.
Q: What are MGC's strengths?
A: Our staff is the core strength. A consultancy's strength depends on its expertise and we strive to empower our staff, and encourage them to take over business segments and responsibility to foster their development.
The other strength that sets MGC apart is that while engaging in conventional consultancy, we bring innovation to our methods – for example, by infusing technology in project management and offering clients access to information, which result in efficient decision making and effective project delivery.
Q: How has the company impacted the local consultancy field?
A: I would say we have been a change agent for the local sector by being a catalyst to change its dynamics in many ways.
In the past, it was a requirement and government practice that large-scale infrastructure projects were led by foreign consultancies with local firms serving as sub-consultants. We realised that continuing as a sub-consultant with little or no responsibility or ownership of the solutions was limiting their quality and our growth.
Therefore, we worked closely with a few reputed foreign consultancy firms on some major projects, and utilised the resulting knowledge transfer to build the company's capacity. Over time, our engineers gained expertise and MGC adopted international standard business practices.
Eventually, we were able to compete with foreign consultancies to become the lead consultant on projects funded by major donors including the Asian Development Bank (ADB), World Bank
(WB) and Japan International Cooperation Agency (JICA), and employ expert foreign consultants alongside our
local experts.
We were also a pioneer consultancy firm in sourcing funding for large-scale government projects from local banks as well as international funding entities. This was possible because we became a trusted firm that always delivers on its undertakings.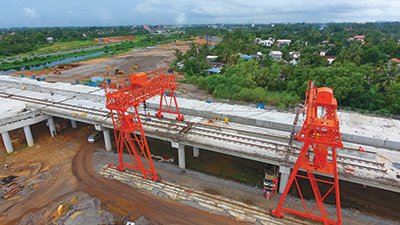 Q: What do MGC's international operations entail?
A: Due to our acquisition of the Roughton Group, which has a presence in 32 countries across five continents, we are able to expand beyond Sri Lanka and South Asia.
We complemented our unique management style by incorporating new technology, enabling teams from multiple disciplines in Sri Lanka, the UK, Europe and Africa to work on a single platform to maximise efficiency.
With this global reach, we have taken Sri Lanka and our local expertise to the world.
Q: And what are your firm's core values?
A: We provide 'innovative infrastructure solutions' by striving to provide our input 'within a conscious business framework, which includes our social and environmental mindfulness.' This sums up the value proposition we bring to the table.
We're also constantly educating and updating ourselves to conform to the regulations and business climates ofthe countries in which we operate. It is necessary that our approach suits each country's nuances and climate.
Our foundation is strong as we take care of our people, deliver high quality services and adhere to standards. Sometimes, these values may not be profitable in the short term but coupled with our unique management style, we ensure that the right solutions are offered to all stakeholders. This has benefitted us in the long term.
Q: What are MGC's future plans?
A: We see that future developments cannot and should not be merely concrete structures. Whether it is a building or road, it needs character. As seen in hyperloop technology, and smart roads and buildings, technology is being infused into infrastructure to improve efficiency and interaction.
We are constantly developing our people's capacities to infuse relevant technology into designs so that our projects are at least on a par with international companies.
The forward plan is to utilise our global network to provide our engineers with international exposure through exchange programmes – and replicate and enhance our successful Sri Lankan business model in other countries, taking the MGC brand global.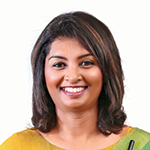 Nalini Senasekera
Chief Executive Officer
Telephone 2806028-9  |  Email mail@mgconsultants.lk  |  Website www.mgconsultants.lk