LMD TV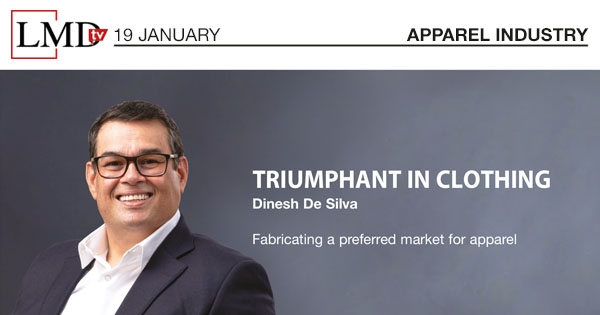 The Chief Executive Officer of Bodyline Dinesh De Silva spoke candidly about the challenges faced by Sri Lanka's apparel industry in the midst of COVID-19: "We had two choices – either to be a victim of the pandemic or bounce back stronger."
He explained: "In response, the Joint Apparel Association Forum (JAAF) formulated a five-point framework in order to face obstacles stemming from the pandemic and drive stakeholder collaboration towards ensuring sustained long-term growth of the apparel industry."
"We chose to focus on opportunities, embrace the 'new normal' and look beyond obstructions. It was possible to fast track certain processes we thought would take longer through digitalisation, enabling the replacement of physical sampling in the product development process," he stated.
De Silva added: "Further, it was pleasing to see greater collaboration between partners of the industry from a technology, design and development perspective."
Referring to logistical issues impacting the apparel trade, he remarked that "supply chain and freight disruptions were a significant issue for us. The pandemic directly affected raw material supplies particularly from China and Vietnam. Further, freight expenses increased almost 300 percent from pre-pandemic levels, massively inflating our cost base."
"However, Sri Lanka is well positioned geographically in relation to both sea and air routes of freight forwarding. I think we have a great opportunity to leverage on our strategic geographical positioning – and we can certainly strengthen our logistical presence in the region," De Silva asserted.
He continued: "There is a significant opportunity for us to build supply chain verticality in Sri Lanka with about 50 percent of our raw materials still being imported – increasing local procurement to 65-70 percent should be the growth aspiration. This has been our approach and it's pleasing to see some consolidation taking place among local supply chain partners."
Moving on to environmental sustainability and ethical standards in the apparel industry, De Silva spoke candidly on LMDtv: "The clothing sector is the second largest polluter in the world, next to the oil and gas industry. The detrimental impact on the environment in terms of landfill, greenhouse gas, toxic chemicals and water pollution is significant."
"Fast fashion practices are known to harm both our environment and society, due to minimum wages and harsh working conditions associated with the manufacturing process," he declared.
Therefore, there is a focus on ethical sourcing, and "we have been able to position ourselves very positively to negate these vibes and practices by working with world renowned brands in the apparel market," he stated with a sense of satisfaction.
"The programmes we conduct – [such as] Garments Without Guilt – have upheld sustainability practices in Sri Lanka. Clothing brands have worked very hard in the last 20 years, embracing environmental protection as a key driver and strategy in their growth plans. I'm happy to see the industry working on recycling, biodiversity restoration and renewable energy, and creating a very conducive atmosphere to sustain and protect the ecology," De Silva elaborated.
As for the viability of the US$ 10 billion goal for Sri Lanka's apparel exports by 2025, he opined: "I think it is a very aspirational target. We started off with a three billion dollar target, which moved to US$ 5 billion."
"The work we have done over last 20 years has helped us position ourselves as a niche value creator and preferred destination for renowned brands. It is time for Sri Lanka to elevate the current competitive advantage it has over other countries with a clear vision, strong leadership and long-term plan, to grow into the aspiration that we have set ourselves in a collaboration with the government," De Silva mentioned in his concluding remarks.