LMD TV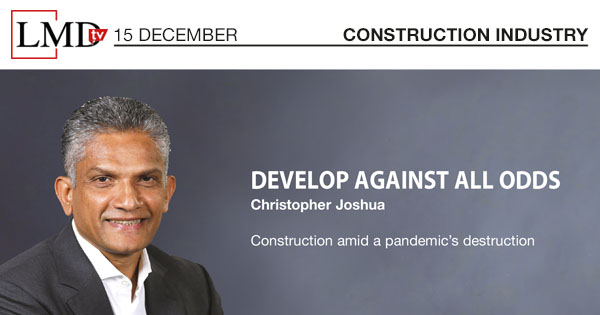 Airing his thoughts on the prevailing economic landscape, the Managing Director of Access Engineering Christopher Joshua spoke avidly about the construction industry. He remarked that "2021 was a very challenging period for the country."
"The disruption to tourism, exports and inward remittances from Sri Lankan workers abroad led to a rapid depletion of our foreign currency reserves, leading to restrictions being imposed on imports," Joshua noted.
The biggest blow to our forex earnings came from the tourism industry – it nearly came to a standstill. It was a very trying time for the country, and the adverse impacts were felt on all economic fronts, he added.
As for the building industry, "the lockdowns made mobilisation of labour very difficult, and complying with government guidelines and protocols added substantial extra costs to the organisation; and towards the latter part of 2021, the pressure on imports due to a lack of foreign currency impeded construction activities massively," Joshua specified.
He elaborated: "The construction industry is a major contributor to the GDP of any nation. Therefore, during the pandemic, many countries provided significant stimulus packages to construction companies, propelling some level of economic growth."
Discussing the constraints faced by the industry, Joshua said: "Raw material shortages – particularly steel and cement – and cost escalations in freight and logistics have been quite debilitating for us."
And he noted that according to recent statistics on the worldwide freight barometer, "we have to pay almost four times more for shipping" and that anything coming from overseas has gone up in price substantially.
"Despite these challenges, we have been able to carry on with our construction projects so far, mainly due to sourcing a majority of the building materials required locally – 85 percent of raw materials needed to construct a major road or highway, and up to 70 percent of resources necessary for property development are mobilised locally. Considering the lack of foreign exchange reserves, sustaining this situation in the long term is vital for Sri Lanka," he emphasised.
Joshua continued: "Going forward, there must be sufficient liquidity in the market with foreign currency made available to allow at least essential imports. Banks are generally very reluctant to open letters of credit; it's only after careful consideration of the relationship [they have] with you, their liquidity position, and any reciprocal foreign currency payments you might receive as proceeds for certain projects will they provide credit facilities."
This situation has been a huge challenge for the entire industry because certain businesses don't have any foreign currency to support their imports, he added: "However, with COVID-19 restrictions easing off, momentum gathering in tourism and an increase in exports, we are hopeful that lack of sufficient foreign reserves will be resolved at least in the medium term."
Talking about the lack of skilled labour resources required, he mentioned: "It's a well-paying profession for vocationally trained people. Unfortunately, we have had this stigma attached to the industry and it has always been a challenge to attract enough workers."
"We have established our own mechanisms to overcome the lack of labour resources – running our own training programmes, on the job training and offering incentives to retain them. Still at times, we're compelled to use foreign workers to complement our local labour force," he revealed.
And Joshua concluded: "All of us in the construction field must pay attention to this issue. We are working with vocational training authorities and the government, to attract and encourage people to engage and train in these vocations because there are long-term employment prospects for them in this industry. Construction will always be a huge part of any country's economic growth."