LIFE
Lewie Diasz
In conversation with Ruwandi Perera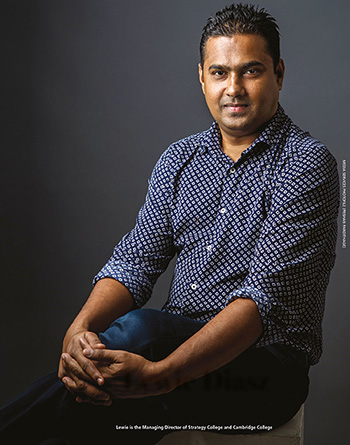 As a child, what did you want to be when you grew up?
My childhood ambition was to be a vet.
Your alma mater is…?
St. Joseph's College
If you weren't involved in this profession today, what would you be doing?
Probably singing in a band.
Briefly describe your family…
My wife Jacqueline is an entrepreneur and I have a son – Josh. In addition, my brother Jack is a banker and my sister Rozanne is also an entrepreneur.
What's a typical day at work like?
I usually start my day by dropping Josh at school. After that, I visit the business schools and then go back to pick up my son from school. After bringing him home, I start work.
What is the most outrageous or extreme thing you've done either personally or professionally?
The most outrageous thing was speaking to my son's classmates – who by the way, were four-year-olds – about business!
Could you share your favourite memory with us?
If I had to choose one, I'd say the birth of my son is my most favourite memory.
What has been your most embarrassing moment so far?
When I had to zip myself up in front of a class.
If you have six months off work, what would you like to do?
I would love to take ski lessons in St. Moritz.
How do you handle difficult situations and people?
Directly confront the situation or person.
What are your favourite places to visit in Sri Lanka?
I love visiting both Nuwara Eliya and Ella.
And your favourite overseas holiday destinations are…?
I'd have to say Brazil, Switzerland, Japan, Alaska, Hawaii and Jamaica are among my favourite overseas destinations.
What are your three favourite brands?
Emporio Armani, Ermenegildo Zegna and Cariloha.
Where do you spend most of your free time?
At home.
How do you relax?
I'm totally relaxed when I play Lego Duplo with my son.
What do you value most in life?
My family is what I value the most.
How do you unwind?
By having a bubble bath.
What are your hobbies and interests?
Teaching, writing and playing golf.
What has given you the greatest sense of professional achievement to date?
The day I launched my second book.
What are the things you don't enjoy doing professionally but have to because work demands it?
I don't like having to fire someone.
On the other hand, what do you love most about your profession?
To be able to meet hundreds of interesting people each week is something amazing about my profession, which I love.
Your all-time favourite movie is…?
Patch Adams.
Which are you favourite books?
Antonio Gramsci's Prison Notebooks; Exploring Corporate Strategy by Gerry Johnson, Kevan Scholes and Richard Whittington; and the Bible.
What is your motto in life?
Forget your opponents; always play against par.
Is there a word of phrase you use often?
'Obviously'
What inspires you the most?
My work is probably what inspires me the most.
And what motivates you to achieve your goals?
To be able to give my son the luxuries I didn't have when I was growing up.
Who are your role models?
Elon Musk and Jack Ma.
And what's your next goal in life?
To launch my book in Sinhala.
If you could change one thing about your life, what would it be and why?
If I could, I'd like to have my parents back together. Because it was hard to learn how to shave from mom!
Describe yourself in one word…
Passionate
What are your pet peeves?
Racists, negativity and animal cruelty.
What's on your bucket list right now?
To co-author a book with an international author and perhaps scuba dive into a shipwreck.
Which items would you consider must-haves?
My MacBook Pro, Amex credit card and sugar free gum.
What sort of wardrobe do you like?
Polo shirts, shorts, New Balance shoes and also pumps.
If you could be someone else for a day, who would it be and why?
Donald Trump… to commit suicide!
Do you have a favourite TV series?
Yes – Boston Legal.
DC or Marvel?
Marvel
What's your favourite food and drink?
I love Japanese food and my favourite drink is Jägermeister.
Who is Lewie Diasz when he's not working or lecturing?
I'm a Lego Duplo fan who loves watching Ryan ToysReview.
Do you have any obsessions?
Two obsessions, actually: my son and Sebastian Vettel.
Could you tell us something that few people know about you?
I suffer from OCD, love listening to Pandit Amaradeva's songs and was a radio DJ for four years as the 'Love Doctor.'
Lewie is the Managing Director of Strategy College and Cambridge College