LIFE
Joyce James-Gunawardene
In conversation with Ruwandi Perera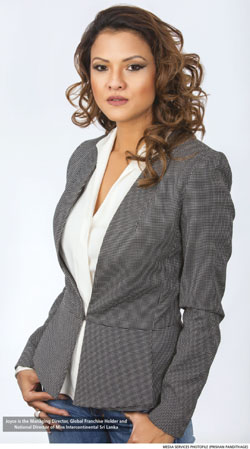 Your alma mater is…?
Holy Family Convent
If you weren't involved in this profession today, what would you be doing?
Nursing

Briefly describe your family…
My mother lives with me and is my foundation, my 16-year-old son gives me every reason to live, and my husband is my support and pillar of strength.
What is the most outrageous or extreme thing you've done?
Beginning to model at 16, and then leaving home to pursue a singing career that took me to places like Singapore, Malaysia, Thailand and Indonesia.

Could you share your favourite memory with us?
Holding my son for the first time.

What was your most embarrassing moment?
Dressed to the nines in the highest heels and slipping on a wet floor! And as with the blows life throws at you, you take a deep breath (enough to fill your lungs), get up, dust off the dirt, smile and shrug your shoulders.

If you have six months off work, what would you like to do?
Spend quality time with my loved ones in a place with no internet or phones, and away from the busy world.
How do you handle difficult people?
All humans are flawed. So if you can look beyond this while having empathy, love and understanding, anything can be solved.

What are your favourite places to visit in Sri Lanka?
I love the sun and sand so I'd say the coastal areas.
 And your favourite overseas holiday destination is…?
Tuscany
 What are your three favourite brands?
Just Cavalli, Ted Baker and Armani Exchange.

Where do you shop most often?
No particular place but it just happens every time I travel!
And how do you relax?
Listening to praise and worship music, praying and working out. It doesn't necessarily have to be in that order though!
What are your hobbies?
Swimming, travelling and working out. And meeting people from different walks of life and understanding their psyche, and using my profession to give back to society by being the voice for causes that I believe need to be heard.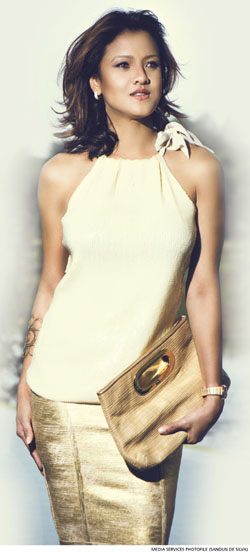 What gave you the greatest sense of professional achievement?
Entering the field of advertising and promotions with hardly any experience, and eventually assisting the company to reach its current status as one of the leading conglomerate brands in the country.
For me personally, it goes beyond profession. We tied up with the Sri Lanka College of Obstetricians & Gynecologists in the company's biggest CSR project called 'Going for Zero' to reduce maternal deaths. And we built a Rs. 30 million state-of-the-art training and simulation centre, which is equipped with robotic mannequins to train midwives, nurses, doctors and support staff in self-help methods.

What do you love the most about your profession?
I am very passionate about what I do; I love every part of my job.

Your all-time favourite movie is…?
The Passion of the Christ

Who is your favourite author?
Jackie Collins

Is there a song that moves orbest describes you?
I Look to You by Whitney Houston
What inspires you the most?
People who try to live the best life they can in spite of facing numerous obstacles.
 Your favourite colour is… and why?
Green – because it is the colour of the heart chakra (canters of spiritual power). When you open the heart chakra, it allows you to love more, empathise and feel compassion.

Who are your role models?
Mother Teresa and Princess Diana.

What is your next goal in life?
As the National and Global Franchise Holder for Miss Intercontinental, I am striving to benchmark at a very high standard the beauty pageants held in Sri Lanka. Beauty pageants have left a sour taste in the mouths of potential stakeholders – so it's a tough road when it comes to convincing them to partner in beauty pageants with a cause.
I have the support of the Women's Chamber of Industry & Commerce Sri Lanka to mentor the winner and two runners-up who will be the face and voice for Heavena, which is a shelter for abused, homeless and trafficked women and their children.
Although it's a cause that is taboo in our society and therefore receives no support, I am positive that this perception will change with my first show on 24 September.

If you could change one thing about your life, what would it be?
Absolutely nothing! Life is a once-in-a-lifetime journey. I have lived, learned and loved; and I look forward to living, learning, loving and experiencing everything else that life has to offer.

Describe yourself in one word…
Humble
Could you tell us something that few people know about you?
I'm a very emotional person.
Joyce is the Managing Director, Global Franchise and National Director of Miss Intercontinental Sri Lanka