LIFE
Roshan Wijeyaratne
In conversation with Ruwandi Perera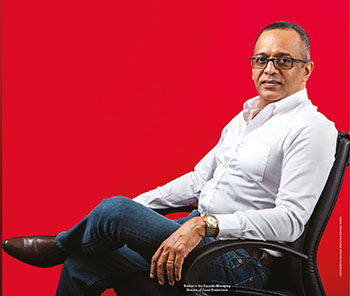 What did you want to become when you were a child?
When I was young, there was nothing called 'event management.' My interests were in electronics and music, since my father was an electrical and mechanical engineer who was also a jazz musician in his younger days.
When I finished college, I joined Claremont Hotel School where I met Harpo Gooneratne who was a part-time DJ. And eventually, I became one too.
Your alma mater is…?
Kingswood and S. Thomas' College.
If you weren't involved in this business today, what would you be doing?
Well, I wanted to be a hotelier.
Describe your family briefly…
My wife is an ex-air stewardess who is now a housewife. I have a son (28) and a 16-year-old daughter.
What's a typical day at work like, Roshan?
When we don't have an event, I usually visit office in the morning, and involve myself in planning, staff meetings and paperwork. And by around noon, we generally drive to the city to meet clients and attend meetings.
How long or short is your working day?
When I began, I was on my own and it was a seven-day working week with 16-18 hours of work every day. I did everything on my own.
But it's changed now, thanks to my team – we plan and deploy teams to work from installation until the end of an event. My son is also now involved [in the business] and handles most of the operations.
What is the most outrageous thing you've done?
With events, we've done so many challenging things! One of them was anchoring a yacht near Mount Lavinia Hotel when the sea was very rough – so rough that the anchor broke in the middle of the event and the yacht drifted away!
On another occasion, for a product launch in Kandy, we had to carry all our equipment up a mountain and clear the entire path with salt to rid it of leeches. Another time, we even brought down models from the ceiling on dress hangers!
If you have six months off work, what would you like to do?
I continue to say I wish I could take a long break of about two to three weeks. But having worked for so long, when I'm at home, I'm lost!
How do you handle difficult situations?
It's all about being calm, having backup support and crisis management – and not panicking.
In your job, what risks do you fear the most?
We work with electronics and never know when they will stop functioning. I'm most nervous when we play the national anthem especially when dignitaries are present – I always play two tracks.
What advice do you have for fellow event managers?
Event managers must remember that an event is not a performance. We're hired to conduct the event – so we should stay backstage and not become a spectacle.
Could you describe your most memorable travels?
My most cherished trip was when I travelled to the US for three weeks – the longest break I've taken. Locally, I am a member of a jeep club in which we go off the beaten track. Our last trip was to the north, driving through jungles and enduring a 35-kilometre (km) beach drive.
And another time, I joined a crazy bunch of cyclists and cycled 1,400 km around the island in 10 days to raise funds for children with cerebral palsy.
What kind of music do you enjoy listening to?
I love music and carry my entire over 7,000-song collection in my phone everywhere I go. I listen to blues and jazz, some alternative rock, and 1970s and 1980s music.
Movies or books…?
Neither. I have no patience to read. And if I watch a movie, it will probably be comedy.
What is your motto in life?
I believe in ethical practises especially in a corrupt sector like ours. If you're a professional, you must be able to sleep knowing that someone trusted you because you're good at what you do.
And what drives you at work, Roshan?
I'm a perfectionist and want everything to work like clockwork. What drives me is an inner need to do my very best in everything I do. In addition, I insist on punctuality – even when I'm on holiday!
Who are your role models?
My role models used to be businessmen like Deshamanya Dr. Lalith Kotelawala and Merrill J. Fernando who are humble and always looking to give.
If you could change one thing about your life, what would it be?
Nothing – I have no regrets because life is there to experience and enjoy.
Describe yourself in one word…
Passionate
Could you tell us something that few people know about you?
I'm a very emotional person.
Roshan is the Founder Managing Director of Event Productions