LIFE
Gitendra E. Chitty
In conversation with Ruwandi Perera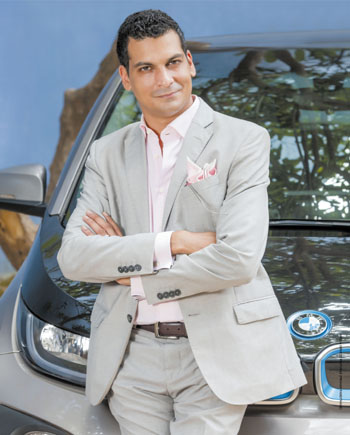 What's a typical day at work like?
My day begins with coffee and a cigarette, to get me going. I then spend a sizeable amount of time conducting research on the business world, technology, energy and even subjects that have nothing to do with traditional business.
My theory is that if I don't understand every industry to the best of my ability, it would be difficult for me to strategise and innovate on behalf of clients. Sometimes, the best business ideas come from completely unrelated areas.
After that, I dream up some sort of crazy idea to build, transform, accelerate or improve a business. Then, it's time to write down and catalogue the ways in which I can make that crazy idea a bankable reality. And somewhere in there, I work on client presentations and business plans with our teams. We then rinse and repeat the cycle!
I must admit that my workday doesn't really end – in a creative, strategic role, it really can't end. Much to my wife's chagrin, I often wake up in the night, wanting to jot down an idea I've had, shoot off an email to an unsuspecting team member and return to bed, to dream a little more.
Your alma maters are…?
I completed my undergraduate studies at New York University's Stern School of Business, and my graduate work at Yale University.
If you weren't involved in this profession today, what would you be doing?
I'd probably be serving coffee at Starbucks – why else would anyone hire me? But if I wasn't in the corporate world, I'd probably be sitting under a palm tree, penning my next novel. 
Briefly describe your family…
In equal parts, crazy and wonderful. We have a very colourful group of people, who are all talented in their own way. 
What is the most outrageous or extreme thing you've done?
Probably moving back to Sri Lanka, after living overseas for 40 years; meeting my wife, marrying her and deciding to stay here. I came over for a three-week vacation, to visit my parents, a year and a half ago… and never left. 
Could you share your favourite memory with us?
When I was six, my family and I were touring one of the Vanderbilt family mansions, in New York – Gloria Vanderbilt's home. And at some point, I disappeared. After a frantic search by my parents and the museum's security staff, they found me asleep on her bed. I remember being thoroughly annoyed at being woken up – the bed was so soft and comfortable!
What was your most embarrassing moment?
When I asked my wife out on our first date, to a seafood restaurant – I'd forgotten that she was a vegetarian! 
If you have six months off work, what would you like to do?
Sleep. Then, I'd play a ton of golf, and sit down to write. I'd also travel more, to Europe – Italy and Germany – and maybe the Antarctic; there are penguins over there, and I like the way they dress. 
What are your favourite places to visit here, in Sri Lanka?
In terms of places to visit for fun, it would be my parents' house in Colombo, then Galle and Jaffna. As for restaurants (I'm kind of a foodie), I enjoy dining at Tintagel, Flamingo House, Dolce Italia and the Dilmah Tea Lounge.
And your favourite overseas holiday destinations are…?
I'm already in my favourite overseas holiday spot: Sri Lanka. Anything outside America is 'overseas' for me. Apart from that, Italy, Germany and China are fun. 
What are your favourite brands?
BMW, Leica (cameras), Brioni (clothing) and Dilmah.
How do you relax?
My work is a form of relaxation. I play a lot of golf, usually poorly. And I take a ton of photographs. I also read and fill my bookshelves. And of course, I spend time with family and friends.
What do you love the most about your job?
I like that I get to create, write and talk for a living. 
Is there a piece of music that moves you?
Beethoven's Violin Concerto in D major – it taught me the difference between 'good' and 'great.'
Is there a phrase you use often?
'Complacency with normalcy breeds mediocrity.' 
What is your next goal?
Personally, I want to figure out how to drive in Colombo and speak Sinhala. Professionally, my next goal is to build the most successful strategy practice in the country.
If you could change one aspect of your life, what would it be – and why?
It would probably be to spend a little less money on ludicrous things – primarily cars and food.
Describe yourself in one word…
Incorrigible… and incapable of following directions!
Could you tell us something thatfew people know about you?
I'm afraid of spiders
Gitendra is the Director of the Strategic Advisory practice at KPMG Sri Lanka