LAUGFS
LAUGFS Lubricants Clinches Gold Award at SLIM NASCO 2018
LAUGFS Lubricants' Dilan Wijerathna, Supervisor/Executive – Sales, clinched the Gold Award under the Industrial, Manufacturing and Energy sector at the National Sales Congress (NASCO) organised by Sri Lanka Institute of Marketing (SLIM).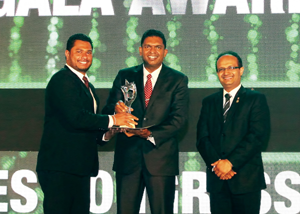 SLIM NASCO 2018 organised by the Sri Lanka Institute of Marketing recognises and rewards Sri Lanka's top sales performers. The prestigious award ceremony held for the 18th consecutive year aims to reward and motivate local sales professionals by inspiring them to reach their full potential in the organisations of their employment.
Commenting on his achievement Dilan remarked, "This achievement is an honour for me and I am truly humbled to have secured the Gold Award. LAUGFS Lubricants helped me realise and drive my career ambitions as I undertook multiple challenges and explored opportunities within the local lubricants industry. I must express my gratitude to LAUGFS Lubricants Chief Executive Officer Mr. Niroshan Pieries, General Manager/Head of Sales Mr. Jayashantha Thotahewage and management for the continuous support and encouragement shown towards me."
Through his exceptional dedication and innate talent, Dilan maintained an excellent track record in sales within a competitive geographical region. With a passion for the brand he achieved his daily performance targets throughout the 2017/18 financial year. Since joining the LAUGFS Lubricants family as a Sales Executive in 2015, Dilan has grown exponentially to become a key performer within the company. In recognition of his outstanding performance and consistent delivery of superior results against key performance indicators assigned for the period, he was awarded the sole Gold Award.
Encouraging Dilan Wijerathna to continue pursuing his ambitions, LAUGFS Lubricants Chief Executive Officer, Niroshan Pieris commented, "With the LAUGFS Lubricants brand re-launch, the salesforce was restructured to increase efficiency. Through these efforts we aimed to ensure a broader career growth for each individual. Investing in continuous training and development we empower individuals like Dilan to prioritise their own individual performance and realise their ambitions. Dilan has been enthusiastically working in a competitive region and we at LAUGFS Lubricants are proud to support him on his journey as he takes his career to even greater heights."
Since its inception in 2008, LAUGFS Lubricants Limited a fully owned subsidiary of LAUGFS Holdings has consolidated its position as a leading local lubricants company among multinationals. The company launched its own brand of lubricants catering to every class of motor vehicles and automotive industries. LAUGFS Lubricants' products are specifically manufactured to suit the dusty tropical climate conditions and have gained the trust of local motorists. Operating a state-of-the-art lubricants plant at the Malwatta BOI Zone, the company provides a range of locally blended engine oils using modern cutting-edge technology in compliance with international standards.
Unveiling a brand new logo design, packaging and introducing a new product portfolio to consumers, LAUGFS Lubricants re-launched the corporate brand in 2017. As a trusted brand the company is backed by prominent and renowned local brand ambassadors Dilantha Malagamuwa, Ushan Perera and Bathiya and Santhush.
LAUGFS is one of the largest diversified business conglomerates and a trusted name in Sri Lanka. Founded in 1995, LAUGFS today has expanded across 20 industries in Sri Lanka and overseas, establishing a strong presence as a leader and pioneer in the power and energy, retail, industrial, services, leisure and logistics sectors. With over 4,000 employees and an annual turnover exceeding Rs. 37 billion, LAUGFS continues to expand and empower millions as a trusted Sri Lankan brand.