LANKAN EXPORTERS AT CANADIAN SHOW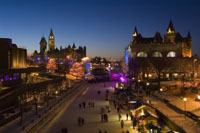 Ten Sri Lankan small and medium-sized exporters are scheduled to participate at the international food and beverage trade show SIAL Canada 2017 from 2-4 May in Toronto, Canada.
These exporters will also take part in a business-to-business meeting session with Canadian importers and receive a market orientation of Canada. Their participation is facilitated by TFO Canada, the Sri Lanka Export Development Board (EDB) and the Consulate General of Sri Lanka in Toronto. According to the agreements between these parties, TFO Canada has pledged to support Sri Lanka for a period of four years from 2015 to 2018.