INVITATION TO MALAYSIAN INVESTORS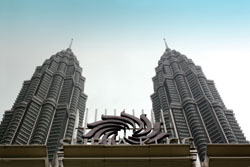 President Maithripala Sirisena invited leading Malaysian entrepreneurs to explore the possibility of expanding investment and trade, and establishing new trade opportunities in Sri Lanka.
The president made this statement when he met the CEO of Malaysian petrochemical giant Petronas Datuk Wan Zulkiflee Wan Ariffin recently.
He also claimed that the current political stability and peaceful atmosphere in the country is conducive to foreign investment, and stated that the government welcomes established companies to invest in Sri Lanka.