KING ARTHUR BY SCOPE CINEMAS
KING ARTHUR NOW SHOWING AT LIBERTY, COLOMBO 3 BY SCOPE CINEMAS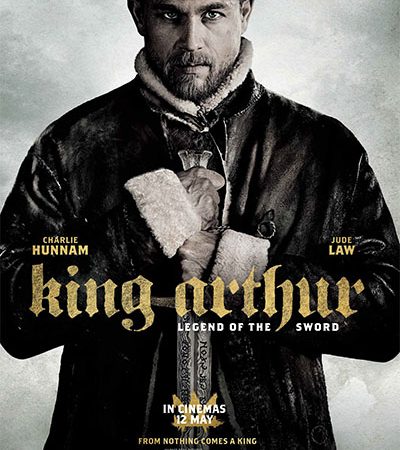 Acclaimed filmmaker Guy Ritchie brings his dynamic style to the epic fantasy action adventure "King Arthur: Legend of the Sword."  Starring Charlie Hunnam in the title role, the film is an iconoclastic take on the classic Excalibur myth, tracing Arthur's journey from the streets to the throne.
When the child Arthur's father is murdered, Arthur's uncle, Vortigern (Jude Law), seizes the crown.  Robbed of his birthright and with no idea who he truly is, Arthur comes up the hard way in the back alleys of the city.  But once he pulls the sword from the stone, his life is turned upside down and he is forced to acknowledge his true legacy.
Hunnam (Arthur) who captures the attention of audiences and critics in both the United Kingdom and Hollywood with his versatility, talent and charisma, stars in this epic movie alongside actors such as two-time Academy Award nominee and a BAFTA winner Jude Law (Vortigern) and Eric Bana (Uther).
Starring with Hunnam (FX's "Sons of Anarchy") and Oscar nominee Law ("Cold Mountain," "The Talented Mr. Ripley") are Astrid Bergès-Frisbey ("Pirates of the Caribbean: On Stranger Tides"); Oscar nominee Djimon Hounsou ("Blood Diamond," "In America"); Aidan Gillen (HBO's "Game of Thrones"); and Eric Bana ("Star Trek").
Guy Ritchie ("The Man from U.N.C.L.E.," the "Sherlock Holmes" films) directed the film from a screenplay by Joby Harold and Guy Ritchie & Lionel Wigram, story by David Dobkin and Joby Harold.  The film is produced by Oscar winner Akiva Goldsman ("A Beautiful Mind"), Joby Harold, Tory Tunnell, Steve Clark-Hall, Guy Ritchie and Lionel Wigram.  David Dobkin and Bruce Berman are executive producers.
Everyone knows the fabled Arthurian legend…or at least thinks they do.  But in the hands of director Guy Ritchie, the tale takes on a decidedly gritty, modern edge and Arthur himself, not yet king, is instead a ruffian, a thoroughly reluctant hero compelled to discover his true destiny even as he fights against the very monarchy he is meant to rule.
"I think the best narratives take a man on a journey that transcends his limitations and allows him to evolve from his most basic nature into someone worthy of a bigger life," says Ritchie, who also co-wrote and produced the film.  "In our version of the story, Arthur's life starts small: an urchin in a brothel, running the streets, learning to fight and dodging the law with his mates.  Then the actions of others—some with good, some with not-so-good intentions—force him to expand his vision of who he could be."         
Ritchie's behind-the-scenes creative team included two-time Oscar-nominated director of photography John Mathieson ("Gladiator," "The Phantom of the Opera"), Oscar-nominated production designer Gemma Jackson ("Finding Neverland"), editor James Herbert, costume designer Annie Symons, and Oscar-nominated VFX Supervisor Nick Davis ("The Dark Knight").  The music is by Daniel Pemberton.
Warner Bros. Pictures presents, in association with Village Roadshow Pictures, a Weed Road/Safehouse Pictures Production, a Ritchie/Wigram Production, a Guy Ritchie film, "King Arthur: Legend of the Sword."  It will be distributed by Warner Bros. Pictures, a Warner Bros. Entertainment Company, and in select territories by Village Roadshow Pictures.
Skyline Entertainment & consultancy Pvt LTD a leading distributor of Hollywood films in Sri Lanka is proud to present in association with Liberty by Scope Cinema is proud to bring a premier of King Arthur.
Skyline Entertainment & Consultancy (Pvt) Ltd is the market leader in English Film segment in the Sri Lankan Film industry providing an outstanding entertainment platform for film-goers.
This is the 1st time Sri Lanka is premiering leading title of before the domestic release date in the USA. Our purpose is to revamp and rejuvenate the film industry by understanding the requirements of the market and thereafter distributing latest highest quality films to exceed the market expectations.