KEMARA
Kemara launches Kemara Cuisine
100% gluten, refined sugar, grain, and dairy-free meals promote clean-eating without compromising on flavour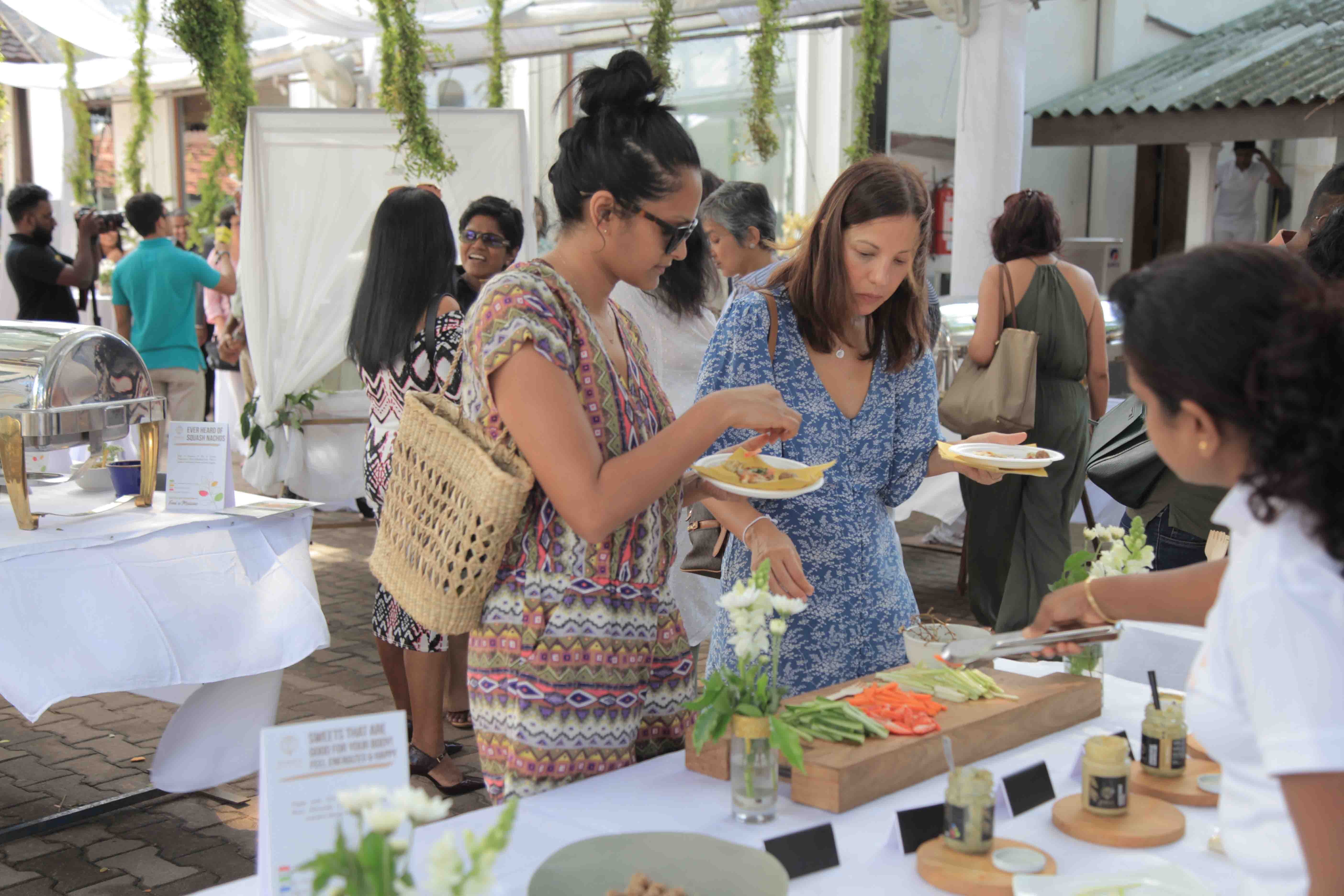 Prioritizing nutrition amidst a busy schedule is a dilemma faced by many in Sri Lanka. Food-related predicaments come in many forms: diabetes, IBS, gluten, dairy & grain allergies, etc., and a blanket solution is hard to come by. To counter these concerns, leading wellness brand Kemara has launched Kemara Cuisine: a clean-eating menu and meal plan, with vegan and non-vegan options, that is wholesome and delicious.
Kemara hosted an elegant garden party at their premises at Lakpahana, where guests were pleasantly surprised at being able to experience all of their favourite foods -kottu, wraps, desserts and more- prepared in a much healthier form, without having compromised on taste. Kemara Cuisine is centered around the clean-eating movement -where whole food is consumed in its least processed state- and all options are 100% free of gluten, grains, refined sugars and dairy. The focus being on how the incorporation of fresh, organic ingredients into meals is key to achieving and maintaining long-term, sustainable, and healthy lifestyle goals.
"Many are of the impression that the four-letter 'd'-word equates to extreme food restrictions and deprivation as a result of lack of choices," says Kishani Gunewardena -holistic therapist and founder of Kemara -, speaking of self-enforced and medically prescribed diets. "With Kemara Cuisine we promise that the healthier alternatives we offer will be something you crave as much as -or even more than- the foods advised against. We want you, quite literally, to fall in love with food all over again!"
Variety will certainly be on the cards, as the culinary team at Kemara will be curating weekly menus using quality local and seasonal produce.
By using alternative ingredients such as coconut flakes, cacao powder, and chicory root, along with other permissible foods such as nuts, healthful oils, and organic fruits & vegetables, customers will be provided with delicious vegan, pescatarian, vegetarian, and non-vegetarian options when it comes to snacks, salads, soups, entrees, dessert and even cold pressed juices & smoothies.
Kemara Cuisine also makes it possible to satisfy that sweet tooth without sacrificing on your health with chocolate lava cakes and red velvet cupcakes on this guilt-free menu! Nutrient-dense trail mixes, protein bites and other nibbles, lip-smacking jams, creamy dips, and flavorful nut butters will keep the snacking game strong, and bread lovers won't feel left out either, with Kemara Cuisine's mouth-watering and energy-boosting Paleo/Keto-inspired breads, waffles, and pancakes.
With Sri Lankans becoming increasingly hungry for convenience and clean eating, the Kemara Cuisine options offer the seemingly impossible; from wraps to crepes, lasagna to pasta, butters to cakes, and even local cuisine to suit our Sri Lankan palette -for once, a one-of-a-kind alternative eating programme that brings the joy back into eating, and will have you feeling fresher, healthier, and more energised at the same time!
This meal plan has strictly no emphasis on calorie counting and portion control, but rather on the consumption of solely the right foods for your body. The rationale at the core of this ancestral diet goes much deeper than physical beauty or weight loss.
Kemara Cuisine borrows from the Paleo Diet in that it does away with dairy products, legumes, sugar, grains, fat and sodium-rich processed food, which the human body has not evolved to process. However, unlike most Paleo meals, Kemara Cuisine's dishes are not meat heavy, instead compensating with larger quantities of fresh, wholesome produce and nuts.
A Sanskrit term meaning 'healing,' the Kemara brand aim to promote a lifestyle of good health and overall wellness. It has since expanded to open a Holistic Spa, as well as a Natural and Organic Health and Beauty Care Line, both of which have proven to be extremely popular.
Customers can opt for home/office delivery, or pick-up from Kemara at Lakpahana in Colombo 7. A standard daily plan includes three meals, plus dessert options, with individual portions ranging from Rs.1,350 (100% vegan) to Rs.1,550 (seafood/chicken). Meal plan upgrades and snack options are also available. Customers can visit the Kemara Cuisine Facebook page to view each week's menu, or contact 011 2 696498 to place orders 24hrs in advance