SINGER
Singer Launches Six Models of High Capacity Smart Inverter Refrigerators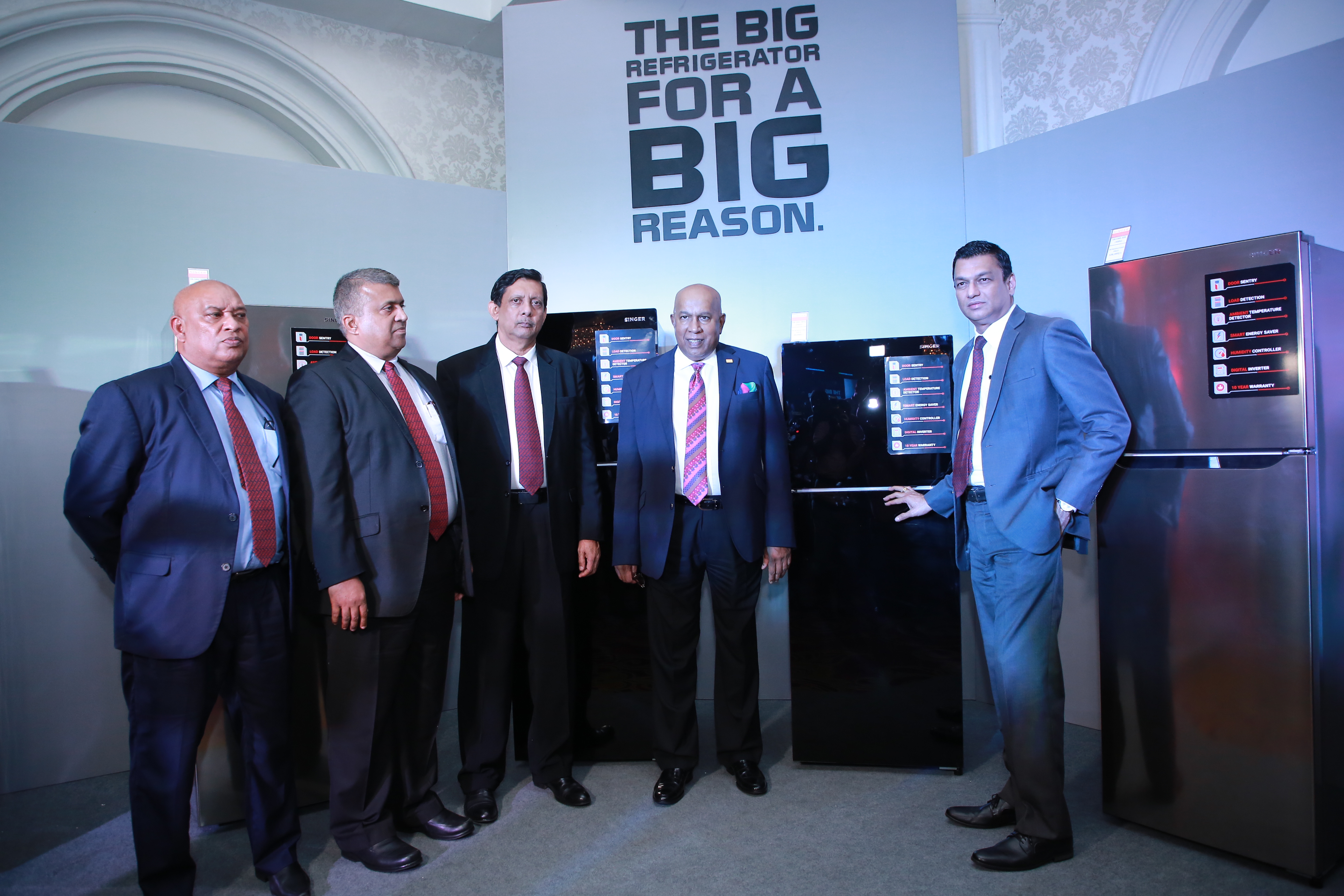 Singer, the country's premier consumer durables retailer recently introduced six locally manufactured innovative refrigerator models at a gala ceremony held at The Kingsbury. The launch ceremony was held under the patronage of Singer Sri Lanka Group Chairman Mohan Pandithage, Singer Sri Lanka Group CEO Mahesh Wijewardene, Singer Sri Lanka PLC Director Marketing Kumar Samarasinghe. The highlight of the newly introduced models is their high capacity, ranging from 260 to 300 Litres. The R600a energy saving refrigerant with inverter technology brings in more uniqueness to these refrigerators which otherwise consumes more energy.
Singer was the first to introduce R600a technology in South East Asia in 2013, which quickly became very popular with its efficient energy saving feature. Singer had been able to consistently dominate the refrigerator market with over 50% market share in Sri Lanka. Apart from that, Singer launched the first ever Sri Lankan designed Geo Smart intelligent refrigerator in 2018. Singer is proud to state that Singer has been able to sell over a million of refrigerators since 2013. The satisfied customers have given huge support to promote these eco-friendly refrigerators by spreading the benefits of using these refrigerators, specially low energy consumption.
Sharing his thoughts, Mahesh Wijewardene commented, "It is a great achievement to be the leader in the Sri Lankan refrigerator market. As an innovator we have been producing one of the best refrigerators in the Sri Lankan market coupled with the latest technology, energy saving features in particular and we are proud to see a locally built product meeting global standards. Launching six models is a significant achievement too.''
Singer took this initiative to manufacture these bigger capacity refrigerators to fulfill customer needs when it comes to upgrading their refrigerators to higher capacities, as well as for people who are looking for bigger refrigerators.
The newly introduced Singer refrigerators are the 260 Litre and 300 Litre models which come in recess handle model, with handle model and Mirror finish elegant black colour model. As a brand which always considers the customer's choice, Singer has focused on the overall finish and design much to the delight of the customers.
These new models come with key features such as Door sentry, Load detection, Ambient temperature detector, Smart energy saver, Humidity controller, Digital inverter plus a comprehensive 10-year Singer warranty. These refrigerators cater to modern demands by ticking all the boxes when it comes to choosing a refrigerator. Today, customers look towards energy saving features, freshness of the food that goes in and more importantly, the safety feature and these models incorporate all these entities.
Kumar Samarasinghe, Marketing Director, Singer Sri Lanka PLC stated, "As Sri Lankans, we are very proud of these products which are made in Sri Lanka and to be able to dominate the Sri Lankan Refrigerator market with our own products is quite an achievement. We are looking forward to bringing more local products to the Sri Lankan market in the near future.''
This latest addition to Singer's product portfolio is available at Singer Mega, Singer Plus and Singer Dealers Island wide and Singer is pleased to offer discounts and other offers to its valued customers along with the best after sales services. Singer also offers hire purchase facilities, credit card and easy payment schemes.
About Singer Sri Lanka
Singer Sri Lanka PLC is the leader in consumer durables market and is renowned for offering a wide range of top-quality local and international brands to its growing number of consumers across the country. The company has won numerous awards for such efforts and out of all Singer has been awarded as the number one people's brand for thirteen consecutive years at the SLIM-Nielson people's awards.