JOB OPPORTUNITIES FOR STUDENTS
Minister of Finance and Mass Media Mangala Samaraweera called for more opportunities to be made available to the 200,000 or so A-Level students who do not qualify for university admission to obtain employment in the technology field.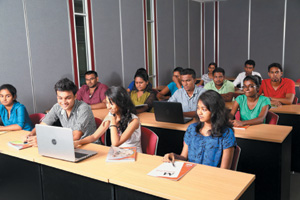 To achieve this, plans have been formulated to set up four technological and vocational training schools in Badulla, Kandy, Trincomalee and Anuradhapura over the next three years with German and Swiss assistance.
Samaraweera noted that when only 25,000 students enter universities annually, other students leave for studies abroad, join private education institutes or enter society with deep frustration. The proposed workshops are intended to enable such students to be part of a worthy profession and earn a considerable income.