JINASENA WITH KAMICO
Jinasena partners with KAMICO of South Korea to assemble agricultural machinery in Sri Lanka
Sri Lanka to be a hub to export to South Asian markets
Jinasena (Pvt) Limited, one of the leading water management systems and solutions providers in Sri Lanka, has entered into a partnership with Korean Agricultural Machinery Industry Cooperative (KAMICO) to assemble agricultural machinery in Sri Lanka for the local and regional markets using Korean technical expertise.
The partnership will enable the two organizationsto join hands to address the shortcomings of Sri Lankan agricultural machinery by improving the quality standards with technical expertise from KAMICO coupled with Jinasena's in-depth knowledge of local agricultural requirements and conditions. The two organizations will work closely with the Farm Machinery Research Center (FMRC), the sole national level training institute for farm machinery in Sri Lanka, to develop agricultural machinery products that are best suited and needed for the agricultural fields in Sri Lanka.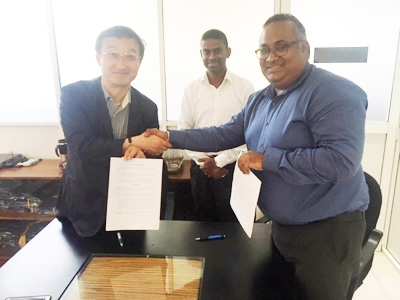 Jinasena will bring down agricultural machinery designed and developed by KAMICO members, assemble and modify them in the Jinasena factory to suit the local market requirements. This approach will also serve as a foundation for Jinasena and KAMICO to use Sri Lanka as a agricultural machinery assembling hub and market to the South Asian region, where Sri Lanka's existing trade partnerships will allow the products to be sold at a competitive price.
Jinasena Agricultural Machinery (JAM) provides a comprehensive range of specialized products and services that are powerful, fast, durable and efficient. The Jinasena Paddy Thresher and Reaper made its debut in 1978 and today the division's expanding range of products includes bush/weed cutters, roto slathers, industrial lawn mowers, pepper threshers, rotary tillers, choppers, sievers, grinders and processed tea cutters. JAM's product range is made available through its network of 19 Service Centers located at Colombo, Bandarawela, Buttala, Girandurukotte, Beruwala, Ekala,Avissawella, Dambulla, Kandy, Nuwara Eliya, Galle, Kaduruwela, Tambuttegama, Anuradhapura,Kurunegala, Trincomalee, Ampara, Embilipitiya and Jaffna.
Expressing his opinion on the partnership, Dhanushka Wijayapala – Director/Chief Operating Officer of Jinasena (Pvt) Limited stated, "This is a fantastic opportunity for both Jinasena and Sri Lanka as we will have access to world-class Korean technological expertise in agricultural machinery. The Jinasena Sales Team has a very good understanding of what is ideally-suited for the country's diverse agricultural requirements. Together with KAMICO experts, we will be able to modify the equipment to suit our market, assemble them in the Jinasena factory and launch them into the market after obtaining FMRC approval. We will also use Sri Lanka as a Launchpad into the South Asian market which augers well for the country as well.This could be the starting point of Korean Industries moving to Sri Lanka."
Since its founding in 1962, KAMICO has been leading the mechanization of farming and the growth of Korea's agricultural machinery industry for over half a century. In 2015, KAMICO built the Global Center for Korean Agricultural Machinery effectively taking its first step towards the globalization of the Korean agricultural machinery industry.Shin GilKim – Chairman of KAMICO stated, "We've found the ideal partner in Jinasena as it is a well-established company with decades of experience in agricultural machinery in Sri Lanka. It's difficult to enter the South Asian market with products manufactured in South Korea due to our high cost of manufacture. Therefore, we are confident that when we use Korean expertise, assemble in Sri Lanka and export to the South Asian region, we will have a good opportunity to compete in the market."
Founded in 1905, Jinasena (Pvt) Limited was the first Ceylonese-owned engineering company and was rated among the five leading engineering companies in the island by 1932. In 1950, the son of the founder T. S. Jinasena designed and manufactured the first Jinasena Centric Water Pump. It is still the only water pump that is entirely manufactured in Sri Lanka. It continues to enjoy a significant market share in Sri Lanka due to its sturdy construction, proven track record, availability of spare parts and reputed after-sales service. In addition to Water Pumps, the company also specializes in Water Purifying Solutions, Irrigation Solutions andSolar Solutions, which makes Jinasena one of the few companies that can provide Water Management Solutions (on or off grid) under one roof. In addition, the company is also involved in Renewable Energy solutions, Waste Management systems and Agricultural Machinery in keeping with its slogan "One trusted name and many possibilities".