JAT HOLDINGS
JAT Reigns Supreme in Accolade Filled 2017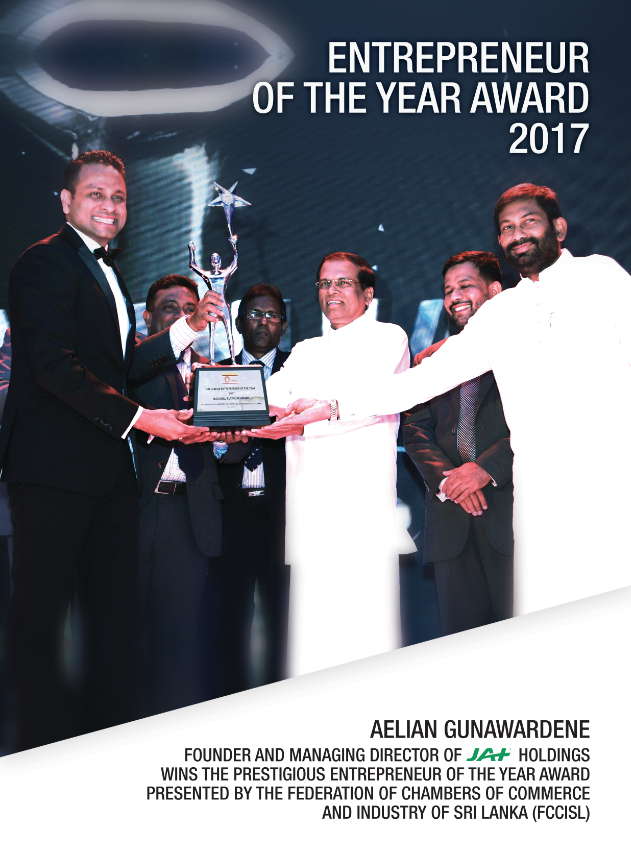 Colombo, Wednesday 10th January 2018: JAT Holdings (Pvt) Ltd, successfully concluded an accolade filled 2017 including Managing Director AelianGunawardenewining the prestigious Platinum award at the 22nd Sri Lankan Entrepreneur of the Year 2017. JAT also took home the Provincial Gold Award in the Extra Large Category – Western Province at the award ceremony which was held at BMICH, Colombo 07 on the 11th of December 2017organized by the Federation of Chambers of Commerce and Industry of Sri Lanka (FCCISL).
For his outstanding business acumen AelianGunawardene was also recognized among LMD's 'Top 23 Businesspeople of the Year' for 2017, a list that features the movers and shakers of the business world in Sri Lanka.
JAT had a successful year in 2017, surpassing Russiato become the No. 1 distributor in the world for Sayerlack Water Based Wood Coatings.Sayerlack is a world renowned product by Sherwin Williams, the largest paint coating manufacturing company in the world. JAT pioneered in introducing water based coatings to the local market and has stood the test of time for over two decades with unmatched quality and extreme customer satisfaction. The company has further broadened its horizons by exporting its world-class products to the South Asian markets of India, Bangladesh, Pakistan and Maldives.
2017 also marked JAT's foray in to several lucrative verticals establishing the Furnishing, Property Development and Technological sectors while remaining the market leader in the Coatings Industry. In terms of Strategic Direction, the company introduced higher end brands such as SEA Bauformat Kitchens alongside the acquisition of EuroMetallic ceilings from Access Group of Companies.
The company recently appointed NishalFerdinando as the Chief Executive Officer, who prior to his appointment, was the Executive Director at Access Projects (Pvt) Ltd and has vast experience in the construction and building industry. Further, NandanaWickramage was appointed as a Strategic Advisor and Board Member of the company. He has over 35 years of hands-on experience in Business Management and is one of the most renowned marketers in the country. Wickramage is well-known for his ability to turn brands around and achieve success, proven by his strategic and innovative thinking.
The year ended with the company taking home the Bronze Award in the Trading Category for the Annual Report Award 2017 conferred by The Institute of Chartered Accountants of Sri Lanka. While still been a private company, this award highlights the company's good governance and transparency.
After concluding 2017 with flair, the management will be widening their horizons and celebrating 25 years of trusted business excellence in the year 2018.