ITB
Ministry of Tourism Development, Wildlife & Christian Religious Affairs
'So Sri Lanka' takes global media by storm!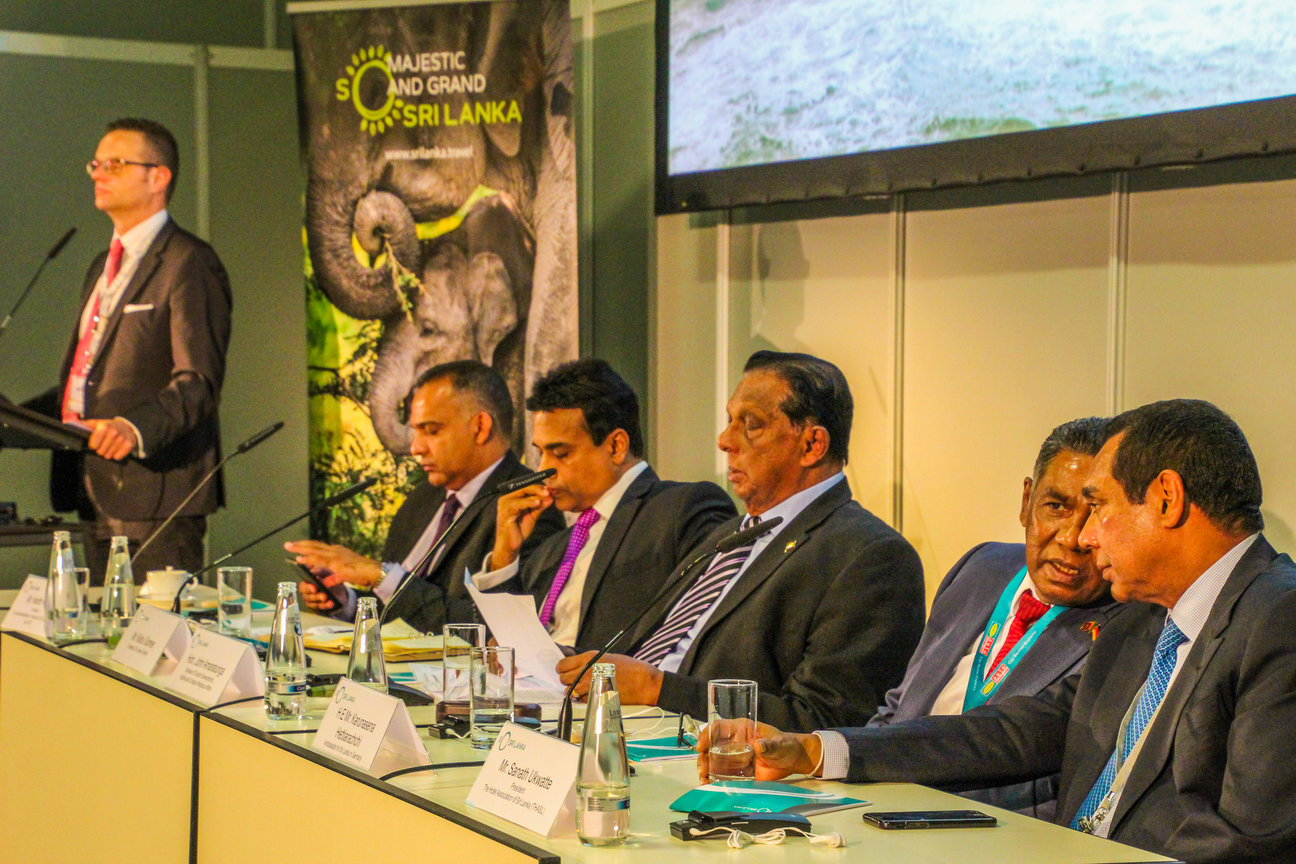 Sri Lanka Tourism Promotion Bureau (SLTPB) consolidated its 'So Sri Lanka' brand idea at the 52nd ITB in Berlin by rolling out the next phase of its strategic brand identity.
SLTPB presented a captivating documentary film to the global media at the ITB press conference held on 7th of March as the digital film launched across the UK, Germany, France, India and China supported by an innovative, well executed, digitally led PR strategy.  Over 80 journalists including leading media houses such as DPA (Deutsche Presseagentur – Germany´s leading newswire agency), Die Welt (national newspaper), N24 news station attended the press conference.
Speaking at the press conference Minister for Tourism, Wildlife and Christian Religious Affairs, John Amaratunga  said "Sri Lanka is an evolving tourist market. In the last 10 years, Sri Lanka has seen a steady growth in arrivals and investments. Based on qualitative research findings on inbound tourists for the last three years, the most endearing feature of Sri Lanka as a destination brand is its authenticity. This authenticity is an attribute that is alive in our heritage, in our cuisine, in our landscape, in our architecture, in our culture and mostly in our people, we are inviting the world to experience 'So warm and welcoming' Sri Lanka!"
SLTPB Chairman, Kishu Gomes, added: "Sri Lanka is like nowhere else in the world. We wanted to visualise what travellers can do, see and feel when they visit Sri Lanka in a way that is as unique as our country – which is why we wanted to tell our story from the viewpoint of our amazing wildlife. Sri Lanka is one of the best Safari destinations outside of Africa, and we also have many other pleasures for visitors to discover; our beaches that have sunshine all year round, our warm and welcoming people, and our food is abundantly flavourful. Sri Lanka must be felt to be believed, and we welcome all travellers to our country for an experience like no other."
Gomes further stated that 'Sri Lanka tourism has a vision to become the preferred destination brand of choice among global travellers. We are developing a strategically powerful amplifier brand that will support a very aggressive and ambitious marketing agenda. We are unlocking the untold power of brand Sri Lanka and empowering the global traveller to create the narrative with us – the amplifier effect of #sosrilanka is already evident and this is exactly what we need to navigate the challenges of a digital first world."
"The brand 'So Sri Lanka' is focused on elevating Sri Lanka's destination brand to include all its diverse offerings and unique attributes. 'So Sri Lanka' goes beyond being a place descriptor and embodies the vibrant qualities that inspire us about Sri Lanka. It is an expression that is easy to use by locals and travellers of diverse origins, be it a first time traveler from China or the 4th time return guest from the UK, a couple from India looking for a destination wedding, a family from Germany  or a French millennial," explained CEO, J Walter Thompson, Ms Alyna Haji Omar.
"The objective of the brand 'So Sri Lanka' is to inspire us to proudly own our finer qualities while at the same time be open enough to continuously work on improvements. We have moved away from investing in a passive identity and we are seeking a dialogue with our socially active digital first travellers. 'So Sri Lanka' is one expression with many attitudes, feelings and emotions. We are so diverse, we are so epic, we are so resilient, we are so natural, we are so colourful, we are so magical and we are rightly 'So Sri Lanka'," Omar elaborated.