FANTA TO COLOUR AVURUDU SEASON
Fanta to colour Avurudu season with bright and refreshing Fruit Punch and Pineapple flavours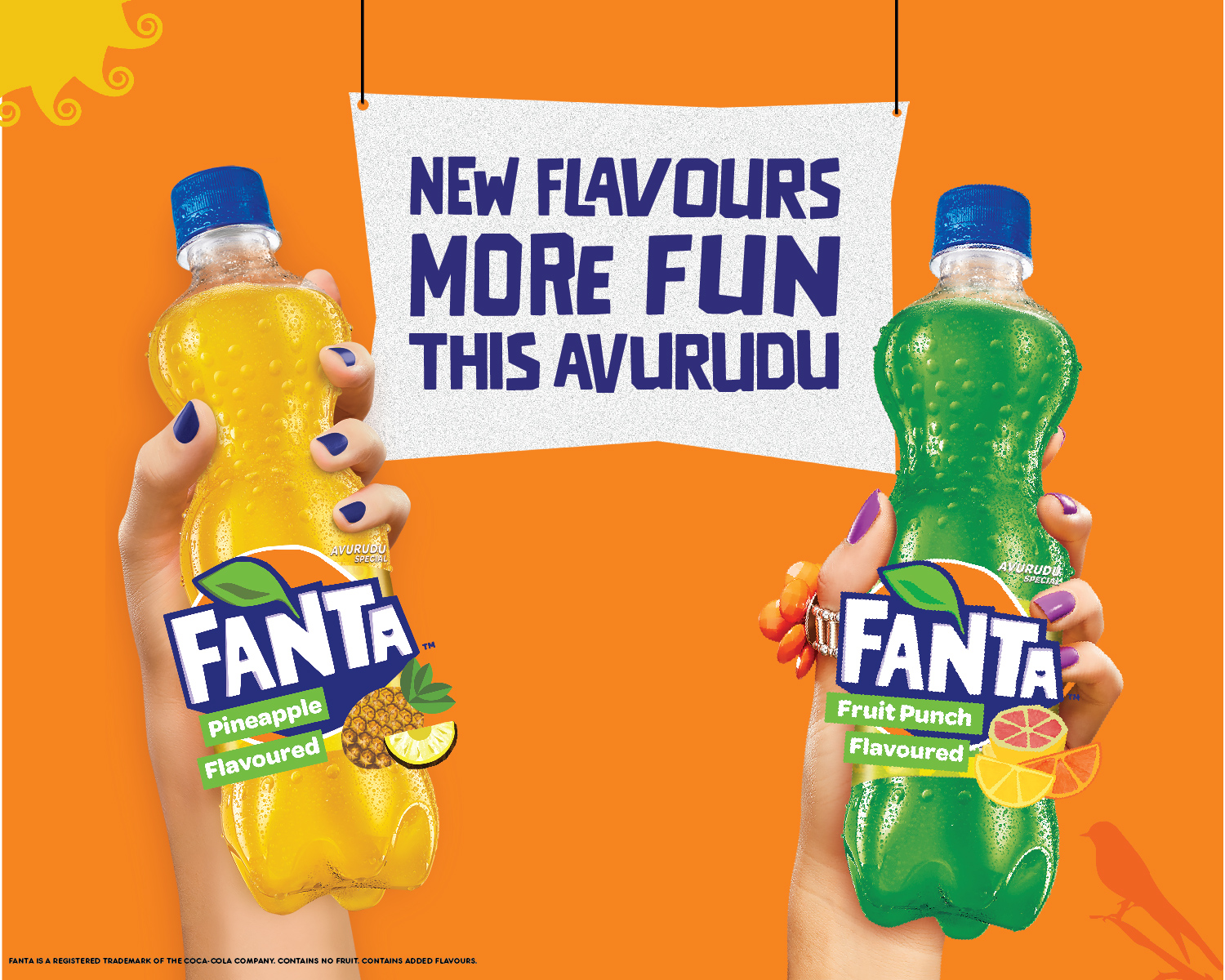 Fanta, one of Sri Lanka's most beloved beverage brands, is poised to infuse colour and fizz to the upcoming festive season by launching Fanta Fruit Punch and Fanta Pineapple favours this Avurudu. Fanta Orange, the first in the Fanta range, was launched in Sri Lanka in 1982 and celebrated 35 years in 2017. Fanta is a favourite at festivals and special occasions to add a touch of freshness and fun and this year's Avurudu too will be a lot more vibrant with the bright colours of the two new Fanta variants. Fruity, bubbly and instantly refreshing, the two new flavours will make a great accompaniment with the delicious Avurudu sweetmeats or even to sip on-the-go during the Avurudu holidays.
Commenting on the exciting launch of the two new Fanta flavours, Mayank Arora – Managing Director of Coca-Cola Beverages Sri Lanka Ltd said, "Coca-Cola in Sri Lanka is delighted to introduce Fruit Punch and Pineapple flavours formulated especially for the Avurudu period this year. The Avurudu season is a special time of the year for Sri Lankans and we wanted to make it even more memorable by introducing two new fruity flavours that would add fun and frolic to every moment of the festive season. The bubbly and refreshing flavours are especially suited for the Sri Lankan palate and will infuse a sense of fun and enjoyment into the joyous season. The two new flavours will be available in both 400 ml and 1.5 Litre packs only during Avurudu. So people should go out, grab them and enjoy the refreshing taste that lingers."
On the new Fanta Flavours launch, Pankaj Sinha – Managing Director, Coca-Cola Sri Lanka Private Ltd said, "Fruit Punch and Pineapple are two unique fruity flavours for soft drinks now available for Sri Lankan consumers. Fanta Pineapple is a tropical citrus delight which pleases those who love the tangy taste of pineapples, while on the other hand, Fanta Fruit Punch makes for a really fruity and delicious drink that mesmerizes your taste buds, leaving you with a taste like no other! These two new flavours will help the flavour range experience under the Fanta brand portfolio, as Sri Lankans are known to love a variety of flavours. Rightly so, Fanta Fruit Punch and Fanta Pineapple flavours will add the right bubbly touch for an unforgettable Avurudu spent with family and friends."
The launch adds to the beverage portfolio currently available to Sri Lankan customers including Coca-Cola, Coke Zero, Coke Light, Sprite, Sprite Zero, Fanta, Portello, Cream Soda, Lion Soda, Lion Ginger Beer, and Kinley water.  Fanta Fruit Punch and Fanta Pineapple has been rolled out across stores and supermarkets in Sri Lanka for people to enjoy and savour. These new flavours have been introduced at a special festive price of Rs.80/- in 400 ml and Rs. 200/- for the1.5 Liter pack.