ITALY TODAY
NOT SO MUCH LA DOLCE VITA
Monita Pesumal compiles an update on the outlook for the Eurozone's third largest economy
According to the 2020 Henley Passport Index, Italy has the world's fourth most powerful passport. An Italian passport is one of the world's hottest to own as it grants 'visa free' or 'visa on arrival' to 188 destinations worldwide.
What's not so hot however, is that this boot-shaped country is presently bootstrapped and labelled the Eurozone's worst performer in terms of debt.
The Bank of Italy announced that the country's public debt reached EUR 2,446 billion in October, which was an increase of 7.5 billion euros over the previous month. Italy's sky-high public debt (although considered sustainable and not at risk of defaulting) carries interest rates that are four times higher than their Spanish or Portuguese equivalents.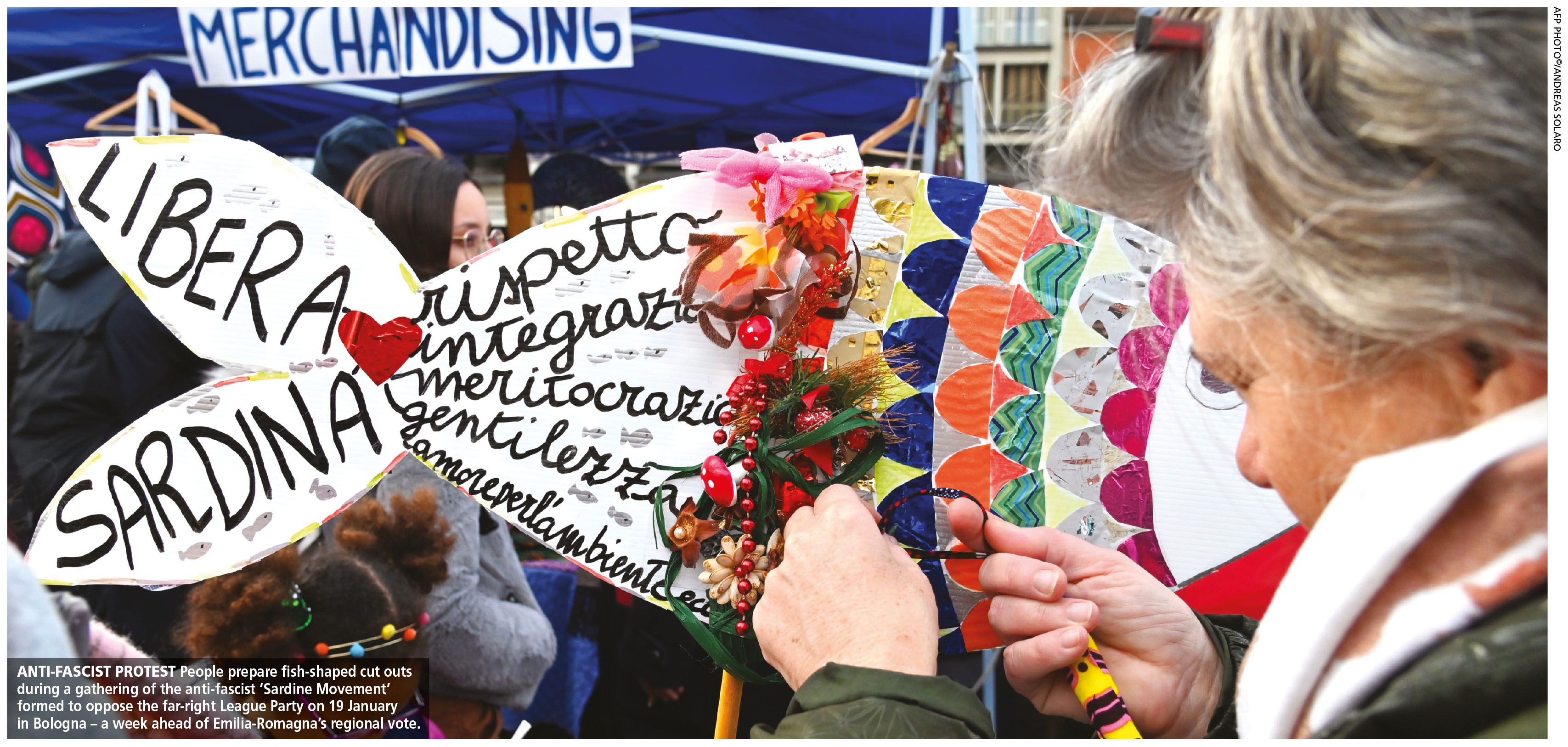 Moreover, investors are uneasy about politics in Italy, which weighs down the financial stability of the country.
Triggering political drama in August last year, right-wing Northern League party leader Matteo Salvini withdrew from the government with the aim of instigating early elections. And if you've kept hearing the word 'sardines' in relation to his politics, rest assured it's not in reference to a typical can of fish.
The Sardines is an Italian movement that emerged against the far-right politics of Salvini and his allies. Founded on Facebook in November by a group of four Bologna flatmates in response to Salvini's threat to 'liberate' the Emilia-Romagna region from the left, the movement has attracted a huge following with thousands of supporters.
According to The Guardian, the metaphor was used to emphasise fish packed together like "jumping sardines in a shoal" and promote peaceful unity against Salvini's divisive anti-migrant sentiments. Having gathered momentum, the group geared up for a major demonstration ahead of crucial elections in the left-wing stronghold of Emilia-Romagna on 26 January.
A win for the league would be the beginning of a remarkable shift in the regional electoral landscape of Italy.
However, the poll outcome saw the centre-left coalition claim victory and confirmation of Stefano Bonaccini as President of Emilia-Romagna – the coalition won more than 51 percent of the votes cast, nearly doubling its count in 2014.
The Italian Republic boasts the second largest manufacturing sector in Europe behind only Germany. It excels in the fields of manufacturing, and assembling aircraft, ceramics, cosmetics, electronics, furniture, firearms, food processing, jewellery, leather products, marble, motor vehicles, pharmaceuticals and textile production.
In addition, Italy is the sixth largest market for robots and 10th biggest global producer of agile technology.
Six Fortune 500 companies have Italian foundations. These include banking's UniCredit Group (with 90,000 employees), and the Rome based life and health insurance company Poste Italiane.
Meanwhile, Assicurazioni Generali yielded over US$ 88 billion in revenue from insurance in 2019, and integrated energy giant Eni (Italy's largest corporate for sourcing, producing, transporting, transforming and marketing oil and gas) is ranked No. 83 on the list.
Commercial and savings bank Intesa Sanpaolo employs a mammoth 92,000 people, and Rome based utilities company Enel is the first in the world to replace traditional electromechanical meters with smart electronic meters, which enables real-time usage.
'Made in Italy' products continue to dominate global luxury markets particularly in couture, fragrances, automobiles and cosmetics.
The backbone of the Italian economy is its people. In Italy, there are an estimated 784,000 family businesses. And what sets Italy apart from its European peers is the lesser recourse of family businesses to external managers. Sixty-six percent of Italian family businesses are managed by family members.
Italian family businesses also stand out due to their longevity. For example, of the world's 100 oldest businesses, 15 are Italian – of which five (including Pontificia Fonderia Marinelli, a bell foundry founded in 1000; Barone Ricasoli, brilliant red chianti since 1141; and Barovier & Toso, makers of Venetian Murano glass since 1295) are among the 10 oldest family businesses in operation today.
And global brands such as Fiat, Barilla pasta, fashion houses Prada and Salvatore Ferragamo, and chocolatier Ferrero are owned and managed 'all in the family.'
Tourism accounts for 13 percent of Italy's GDP. It has been reported that 94 million tourists spent a total of 216 million nights in Italy in 2018. And the Italian National Tourist Board claimed to have attracted more foreign tourists to Italy than France.
With 20 regions to visit, it is difficult to narrow things down; but for vino and food lovers, the Emilia-Romagna region in the north is Italy's culinary capital while architecture enthusiasts head for Tuscany – for its Renaissance architecture. For fashionistas, Milan is literally where the runway is and nature lovers prefer the snow-capped peaks of the Italian Alps or Lake Como, Cinque Terre or the idyllic isle of Capri. And for history buffs, Rome is the 'Eternal City.'