INSEE
INSEE Cement extends 'One Child – One Tree' Project this year to reach over 5,800 children in Puttalam and Anuradhapura
Colombo 28th Oct 2019:  INSEE Cement, Sri Lanka's foremost manufacturer of Sanstha cement that is used to build over one third of the country's houses, has further expanded its unique 'One Child – One Tree' initiative this year. Together with the Colombo Plan, INSEE Cement celebrates the birth of every child by gifting a fruit plant in the child's name. The programme was launched in Anuradhapura last year and reached over 700 school children in the area aged between 5 and 15 years.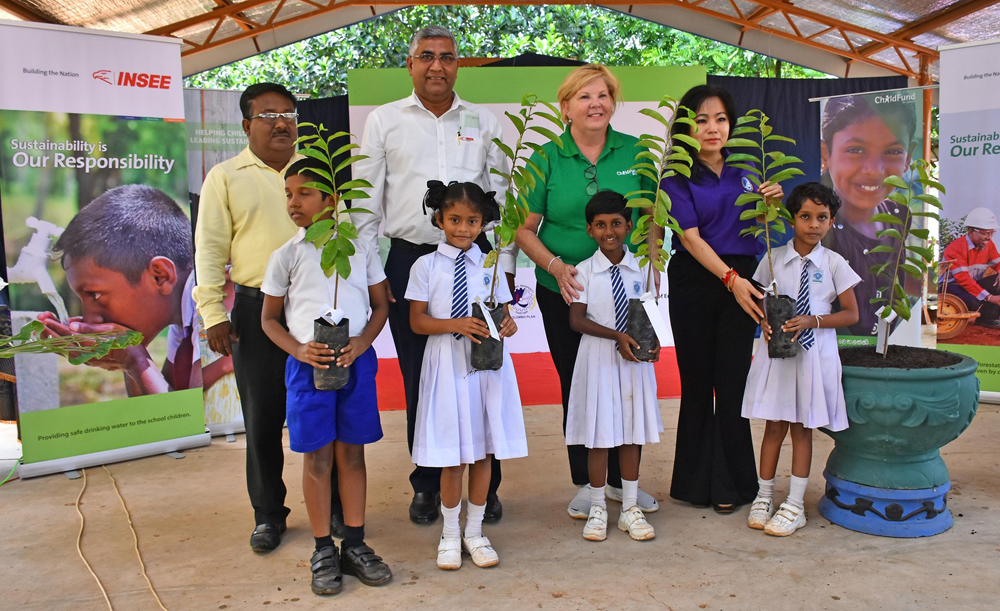 INSEE- Colombo Plan initiative is extended to reach more children in Puttalam and Anuradhapura areas this year collaborating with Tarana Foundation and Child Fund Sri Lanka in creating shared value to benefit the school children in the area. INSEE also partnered with Puttalam Zonal Education Department, the religious leaders in the area and teachers of the respective schools to implement the project.
The Chairman/CEO of INSEE Cement Nandana Ekanayake explained "In Partnership with Colombo Plan and Ministry of Education in 2019 we will be reaching out to 16 schools in Anuradhapura and 11 schools in Puttalam through the One Child – One tree initiative. This project is an excellent example of how the collaboration of Public Private Partnership (PPP) effectively benefits the environment and future generations in a meaningful way. This year we will reach out to around 4,660 school children from Puttalam and 1,156 school children from Anuradhapura Districts. Last year we engaged with 706 children from 10 primary schools in the Anuradhapura district itself."
He further added "Most importantly, this year we are setting up a monitoring and Geographic Information System (GIS) – a tracking system with the support of Child Fund Sri Lanka and its local partner Voice to digitally track the growth of the plant on a Google map app with the interactive support of the school children, their parents and the environment teachers in the respective schools. Through One Child One Tree programme we are planning to reach out to schools across the island, year-on-year, because as a responsible Corporate Citizen, we believe in building a green sustainable future for our future generations".
What is important in this initiative is that as the child grows, the plant also grows and matures into a tree. By the time the student completes his or her basic education, the plant is already a tree, providing the planet with fresh air and oxygen.
Ekanayake reiterated "This is not a just another tree planting initiative – We have introduced this programme especially to children aged between 5 and 15 years, as a part of their environmental education programme. This will be implemented with the support of the Ministry of Education with the Environment teacher-in-charge from each school directly involved in ensuring the success of this programme."
The one child – one tree programme is linked to the birthdays of the children.  A child is gifted with a plant through the school management. Every child will be gifted a plant only once and it will be monitored on how well the student is taking care of the plant. A team from Colombo Plan and INSEE Cement will be in touch with the school management to measure the success of the programme.
H.E Ambassador Dr. Phan Kieu Thu, Secretary General of the Colombo Plan commented: "We are happy to partner with INSEE Cement to carry out such a meaningful endeavour that touches both the social and environmental sustainability elements. Two years ago, I had this dream of gifting a plant to every child.  We are delighted to have on board INSEE Cement as a responsible partner to support our endeavour. In fact, it is noteworthy that INSEE Cement is aligned to similar sustainability initiatives, and is moving towards a low carbon agenda to support local communities. The One Child – One Tree initiative is not just to increase the number of trees in the world, but to create future leaders who will be committed to the environment. Together we are dedicated to creating an awakened, responsible community to preserve the environment."
Isuru Jayasundara, Assistant Director, Puttalam Zonal Education Department commented: "This is a worthy endeavour aligned with the current environment syllabus of the Ministry of Education. This project further strengthens the school's Environment Club and educates the children on how to grow a plant successfully. With the launch of this project we also introduced a practical workshop in every school we reached out to this year, for children in Grades 1 to 8 on taking care of the plant. We have also appointed environment teachers and environment ambassadors called 'Parisara Niyamuwo' to ensure that the plants are maintained and cared for. We are indeed very appreciative of this initiative and are happy to support the Colombo Plan and INSEE Cement on this meaningful endeavour."
INSEE Cement is known as Siam City Cement (Lanka) Ltd., and is a member of the Siam City Cement Public Company Ltd. (SCCC), a leading cement manufacturer in Southeast Asia, founded in 1969 in Thailand. In Sri Lanka the Company manufactures INSEE-branded Sanstha, Mahaweli Marine Plus, INSEE Rapid Flow, INSEE Rapid Flow Plus and INSEE Extra Cement. The Company's product portfolio drives the use of eco-friendly superior blended cement.